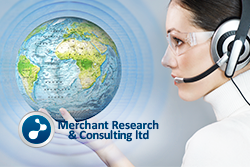 London, UK (PRWEB) September 25, 2012
By the end of 2017, the world beryllium market is forecast to reach about 506,000 metric tons, with the growth influenced by trends in the end-use application sectors. In particular, sustained demand from the telecom equipment/computers segment and the burgeoning automotive electronics market will drive home large gains.
The US is the world's largest producer, processor and consumer of beryllium, which is small wonder considering the fact that the country possesses more than 65% of the reserves for the element. China and Mozambique are the two other major beryllium producers globally.
Comprehensive beryllium market analysis and future projections are presented in the topical research report "Beryllium Market Review". The study offers extensive analyses of the global, regional and country markets for beryllium. It reviews both current data and past statistics and provides detailed market forecasts.
The information included into the report describes beryllium production and consumption volumes, demand and supply, pricing data and trade activities. Major market players are profiled and key market events and news are discussed. Forecasts present the future picture of the beryllium industry, highlighting the projected volumes and prices, opportunities and trends.
Report Details:
Beryllium Market Review
Published: May, 2012
Pages: 47
http://mcgroup.co.uk/researches/beryllium
Report Contents:
DISCLAIMER
RESEARCH METHODOLOGY
1. WORLD BERYLLIUM MARKET
1.1. Beryllium in Global Industry
1.2. Beryllium Market Overview
1.3. Beryllium Prices
2. NORTH AMERICAN MARKET OF BERYLLIUM
2.1. USA
3. LATIN AMERICAN MARKET OF BERYLLIUM
3.1. Brazil
4. EUROPEAN MARKET OF BERYLLIUM
4.1. European Union Market of Beryllium
4.1.1. Portugal
4.2. CIS Market of Beryllium
4.2.1. Kazakhstan
5. ASIAN MARKET OF BERYLLIUM
5.1. China
6. AFRICAN MARKET OF BERYLLIUM
6.1. Madagascar
6.2. Mozambique
6.3. Zambia
7. FUTURE OUTLOOK (2012-2016)
LIST OF TABLES
"Beryllium Market Review" is included into the catalogue "Metals", which also offers studies on Aluminum, Arsenic, Copper, Iron and Steel, Lead, Magnesium, Mercury, Silver, Titanium, Zinc markets.