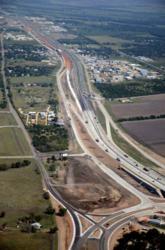 College Station, TX (PRWEB) September 25, 2012
As motorists who regularly travel I-35 through Central Texas know, work is well underway to improve this heavily traveled corridor. A part of that effort involves providing travelers with detailed information about construction-related delays, both before their trip and – via changeable message signs – during their trip along the entire 96-mile construction zone.
Researchers from the Texas A&M Transportation Institute want to hear from motorists about what is useful, what isn't, and what more could be done. To participate in the brief, anonymous survey, visit http://my35survey.org. Survey results will be used to evaluate and improve current traveler information efforts.
An earlier survey identified the types of information motorists find useful in travel planning, and the ways in which motorists preferred to receive that information. Among the information being evaluated in the second survey are several subscription-based e-mail notices, including a Daily Closures notification, a twice weekly 7-Day Closures forecast and an as-needed High Impact Closure notice. Researchers are interested in whether or not these dispatches are useful, easy to understand and provide the right amount of detail. The survey usually takes about 10 minutes to complete.
The I-35 expansion is designed to dramatically improve mobility and safety in the 60-year-old corridor, increasing capacity by 33 percent. Construction is under way to expand more than 96 miles of the Central Texas portion of I-35 between Hillsboro and Salado. Improvements include expansion from two to three lanes in each direction, expanded roadside traveler information, a modern roadway design that enhances safety and conversion of the two-way frontage roads to one-way to improve safety and access on frontage roads.
Efforts to improve the I-35 corridor throughout the state would not be possible without the support of local governments, the Texas Legislature and the U.S. Congress. In addition to the ongoing $1.9 billion dollar construction expansion of I-35 through TxDOT's Waco District, a number of critical projects are underway in the Dallas/Fort Worth region to improve I-35 connections to I-820 and I-635 thanks to a partnership with the private sector. Meanwhile, TxDOT continues to plan for the long-term future of the I-35 corridor through the My 35 citizen-driven planning process. For more information about I-35 expansion projects or the My 35 planning effort and to see a summary of the survey results when the survey is complete, visit http://www.my35.org/.
Follow the construction project and learn about I-35 travel delays on Twitter at @I35Travel or on Facebook at http://www.facebook.com/TxDOT.