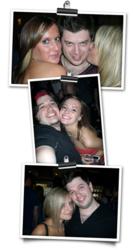 London, UK (PRWEB) September 27, 2012
The Girlfriend in a week website is the creation of Johnathan Green, formerly one of the world's leading pick-up artists. The aim of the site is simple. To help anyone who doesn't have a girlfriend and wants one, to get one. After dating hundreds of women in countries all around the world Johnathan has at last settled down and he wants other men to do the same.
So who is Johnathan Green? He is not what many people think of when they imagine a PUA (Pick-up artist). He isn't rich with stunning good looks. In fact he says himself that he is 20 pounds overweight and a certified nerd. He does however know women and what they want. He has dated more than 200 women in just 5 years and made his name in London where his infamous Inimitable London Paladin blog attracted millions of hits.
The Girlfriend in a week website is however not about casual encounters. It is about helping men find the girlfriend who is exactly right for them without hundreds of pointless first dates that will never go anywhere. Johnathan knows exactly what makes a man attractive to a woman who is "girlfriend material". While most men think that it is money or good looks, the truth is it isn't. Women quickly see past these details and with Johnathan's help it is possible to find out what they really want from a man.
While an overly attached girlfriend is just a dream for many it can become a reality with Johnathan's insight and understanding of the opposite sex. The Get a Girlfriend in a Week course is available from the website for just $37 and comes with a host of bonus giveaways including a guide to Gaining Dating Confidence by the renowned hypnotherapist Joseph Clough.
About girlfriendinaweek.com
The http://www.girlfriendinaweek.com/ website is the creation Johnathan Green one of the world's leading pick up artists. After years spend playing the field he has finally settled down and is ready to pass on all the tips and tricks he learnt from dating women across the world. Much more information on how to get a girlfriend is available on the website.