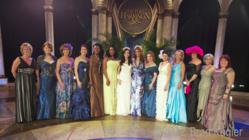 This is the most money we have ever raised; and we thank everyone in the community who participated, donated, and supported the cause
Clearwater, FL (PRWEB) September 25, 2012
On September 15, 2012, the Clearwater Community Volunteers'(CCV) hosted their 10th annual fashion show, at the historic Fort Harrison in Downtown Clearwater. This year, the CCV partnered with the 6th Judicial Circuit Public Defender, Bob Dillinger, to help feed the chronically hungry children of Pinellas County – children who are on the free or reduced lunch program in their schools but go to bed hungry and do not have enough food on weekends. The charity fashion show raised a total of $36,000 overall for charity.
Dillinger's "Nourish to Flourish" program provides food to these unfortunate children by sending a tray of food home with them every night and on weekends. With the $20,165 raised for this program at this year's event, the organization will be able to feed 140 children in Pinellas County for a school year.
"We couldn't have asked for a better turnout," commented Pam Ryan Anderson, Chairperson of the CCV. "This is the most money we have ever raised; and we thank everyone in the community who participated, donated, and supported the cause."
The CCV would like to thank Ambria's Wearable Art in St. Petersburg for supplying the couture, as well as all the models who participated in the show:
•Margaret Word Burnside, co-publisher of Tampa Bay Magazine
•Cat Coats, wife of the former Pinellas County Sheriff and co-founder of the Beth Dillinger Foundation
•Dr. Linda McClintock, Medical Director & President of Age-Less Medicine and wife of former four-term Tampa mayor Dick Greco
•Dr. Kellie Lightborn, Mrs. USA 2012 and nationally recognized television host, attorney, author and motivational speaker
•Lorena Rivas Hardwick, City of Tampa's Neighborhood and Community Relations Office
•Cher Hubsher, Miss Clearwater USA 2013
•Dr. Kendra Outler, anesthesiologist at Walter Reed National Medical Center
•Pat Brady, former Pinellas County Government
•Bahiyyah Sadiki, science teacher at Gibbs High School and wife of Imam Sadiki of the St Petersburg Islamic Center.
•Kelly Pomeranz, wife of David Pomeranz, an American singer and composer
In addition, the fashion show raised $5,000 for the Shriners Hospitals for Children® - Tampa. Shriners is a network of 22 hospitals nationwide providing medical treatment for children below the age of 18 suffering from orthopedic and other ailments regardless of their ability to pay.
For more information on the Clearwater Community Volunteer's, visit: http://www.clearwatercommunityvolunteers.org.
About Clearwater Community Volunteers (CCV):
Clearwater Community Volunteers (CCV) is a non-profit, charitable organization, made up entirely of volunteers and is a community arm of the Church of Scientology in Clearwater. CCV produces the huge Easter Egg Hunt in Coachman Park in Clearwater every Spring and "Winter Wonderland" – an annual holiday charity drive in downtown Clearwater featuring 5 village buildings, 100 live pine trees, live entertainment, tens of thousands of tiny white lights, pony & train rides, a playground, a giant slide and bouncy house, and Santa and Mrs. Claus. CCV gets their inspiration from the quote by L Ron Hubbard, "Love and Help Children." CCV has raised over $140,000 over the past 16 years for charities such as Boys and Girls Club of the Suncoast, the Make-A-Wish Foundation and The Children's Home, Inc., the oldest orphanage in Tampa.