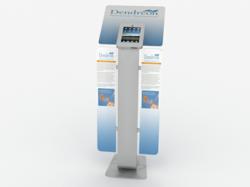 I always feel excited when I see our enthusiastic and dedicated development team branching out into new technologies. It is great that as a company we can support companies who are striving to do kiosks in a new and innovative way
Sheffield, UK (PRWEB) September 27, 2012
Tablets are taking the kiosk industry by storm. Everywhere you look companies are trading in their large kiosks for small, sleek tablet-based solutions. Genkiosk customers appear to be no exception, having spent years building and monitoring touchscreen kiosk software designed purely for touchscreen + PC combination, around 75% of current enquiries are for tablet kiosk software solutions.
Genkiosk has recently won its first contract to deliver a tablet-based touchscreen kiosk software application for a dynamic new bill payment provider. Genkiosk's latest new partner is keen to do things differently and to ensure their kiosks are seen to be cutting edge.
James Oladujoye, CEO of GWD Media (creators of Genkiosk) says: "I always feel excited when I see our enthusiastic and dedicated development team branching out into exciting new technologies. It is great that as a company we can support businesses who are striving to provide kiosks in a new and innovative way".
By embracing tablet-based kiosk software solutions, operators are now able to enjoy a considerable number of advantages over more traditional hardware models. One of the main motivators for using tablet kiosks is that the capital expenditure is vastly reduced. Most new operators roll out with an average of about 50 kiosks and then quickly grow their estate to 500 or more, meaning that a saving in the order of several hundred dollars makes a considerable difference to the affordability of kiosk estates.
Another aspect that has drawn businesses towards tablet kiosks is their sleek and modern-looking design. Although designers of traditional kiosk solutions have worked wonders in the area of kiosk asthetics, nothing quite beats the freedom of design offered by an integrated tablet kiosk. For many companies (retailers for example), floor space is an expensive commodity and the ability to save square footage is an enticing prospect.
The tablet industry is also beholden to the demands of the consumer market, meaning that innovations and economies of scale have directly led to enormous benefits in terms of usability and performance. The end-user experience offered by even a budget tablet can match or even surpass a much more expensive touch-screen and PC based kiosk solution.
Marek Narkiewicz, CTO of GWD Media, sums up the ethos at the company: "As tablets become the hardware of choice for touchscreen kiosk software solutions, Genkiosk has proved its commitment to remain at the forefront of our industry for the benefit of our customers".
Genkiosk has seen self-service kiosks growing hugely in popularity over the last few years. The kiosks are simple and fast to use. Availability is high (up to 24 hours a day) and they often remove the need for customers to stand in line or wait for human assistance.
The result for end users: they get what they want - quick and easy.
Genkiosk, from GWD Media was first developed to run and manage pay-as-you-go Internet kiosks. It has now grown to cover the full range of self-service applications.
GWD Media is headquartered in Sheffield, UK, and operates worldwide.