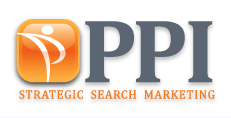 The rebranded website is a natural reflection of PPI's growth and expansion.
Atlanta, GA (PRWEB) September 26, 2012
Search marketing agency PPI has announced a new, redesigned website that reflects the agency's strategic and results-driven approach to search. For the first time in almost six years, PPI (formerly Prominent Placement Inc.) has overhauled its site and rebranded, yet the agency remains committed to offering the essential services that have defined its success since the early days of SEO.
"Over the past 11+ years, PPI has grown from a small, virtual company to a full-service search marketing agency delighting clients all across the country. The rebranded website is a natural reflection of PPI's growth and expansion," says Stacy Williams, founder and CEO at PPI.
In the rapidly changing and expanding search engine marketing (SEM) industry, PPI stands out as an award-winning leader in providing quality service and consistent results for its clients. Its services include SEO, paid search, usability, mobile, and analytics, all with a focus on increasing and measuring high-quality traffic and leads for its clients. By redesigning their website, the folks at PPI have reestablished themselves, once again, as leaders of the pack.
PPI is an award-winning Atlanta search engine marketing company that grows sales pipelines for clients nationwide by increasing online brand awareness. As a pioneer in search engine optimization (SEO) and paid search services, we consistently deliver ROI that traditional marketing channels can't touch, with a level of client service that raises the bar. Since 2001, PPI has managed SEO and paid search strategies for clients across the U.S., empowering businesses to focus on what they do best. PPI's customized solutions are backed by hard numbers, giving decision makers the confidence they need to make smarter decisions.
For more information, visit http://www.prominentplacement.com or call 404.373.9727. You may also follow us on Twitter, Like us on Facebook, and read our blog Search Advisory.