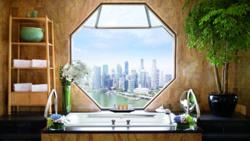 So exclusive and exceptional, they are fit for a King.
London, UK (PRWEB) September 27, 2012
Princess D'Annam Resort and Spa, Vietnam
The aptly named resort is indeed fit for a Princess and is Vietnam's first all-villa luxury boutique hotel. Visitors will be spoilt for choice from 57 villas featuring 26 Mandarin suites, 18 Princess villas and three 2-storey Empress Villas complete with infinity plunge pools overlooking the ocean. The secluded Ke Ga Bay is a stunning sight to see and faces a century-old French light house. With four swimming pools for a dip, two restaurants and 1800 square meter spa complex, the resort is a haven of relaxation. Visitors can enjoy a series of natural treatments to make themselves camera ready like a British princess or even practice their swing on the resorts 18-hole golf course.
With stunning panoramic views of the Phuket foothills in this elevated villa, enjoy this four-bedroom property featuring its own 25-meter pool. Dabble in some couples tennis, take a romantic walk on the private beach or relax on the more than spacious pool deck. There is plenty to indulge in. Kate could have easily kept the fashion world content if she so desired to tweet her tropical outfits since the villa offers a multitude of international sockets as well as Wi-Fi.
Exclusivity at its best: the private island of Ariara. Although visitors may be more than content with an island to themselves, there is more than enough room for family or friends to join with space for up to 18 guests. The facility offers beach cottages and jungle villas on stilts that are designed to blend into the environment; Ariara is sheer private bliss. At the end of a day of snorkeling, diving or relaxing one would have certainly worked up an appetite. Let your personal chef cook up a fresh from the water treat either under the stars or in the exquisite dining hall.
The Ritz-Carlton Millenia, Singapore
A visit to Singapore is simply not complete without indulging in Sunday brunch at the Ritz-Carlton Millenia, infamous for its fresh seafood and continuous flow of Moet & Chandon. This is one of Singapore's finest and central hotels. Set in seven acres of landscaped garden the hotel offers unobstructed views of both the city's stunning skyline and the wonderful marina bay. The hotel is newly renovated and boasts extremely spacious rooms that feature state-of-the-art technology. After enjoying a day at the Botanical Gardens, where one can view orchids named after Britain's Royal couple, relax with a movie night in and take advantage of the 46-inch LED television or enjoy a "second honeymoon" bath complete with champagne, roses and strawberries.
Villa Champak, Koh Samui, Thailand
Located on the north coast of Koh Samui, white sands, turquoise waters and breath taking views are just a few things you can enjoy at the Villa Cham. The 5-bedroom villa is set in three pavilions that are centred by a simply beautiful salt-water lap pool that reaches out towards the sea. The private villa offers a luxurious retreat with its own gated beach area which is overlooked by an open-sided pavilion furnished with loungers, table and chairs; the perfect setting for a romantic evening meal.
For all press enquiries regarding Quintessentially Villas, please contact: Felicity Gale +44 (0)845 269 6673 / E: felicity (at) quintessentiallyvillas (dot) com
About the Company:
Quintessentially Villas is a sister business of Quintessentially. Quintessentially is the leading international luxury lifestyle company. Launched in 2000 as a small London based concierge service, Quintessentially has experienced a complete transformation in a decade, and currently have offices in over 64 cities around the world. The service provided to their discerning and HNW members is proactive and personalised, catering to every member's need, from last minute restaurant bookings, travel arrangements, and access to private parties, as well as fulfilling every unusual request and successfully connecting businesses all over the world. Quintessentially can offer access to the inaccessible and can make the seemingly impossible, possible. In a bid to ensure only the very best service is delivered across the luxury market, Quintessentially has also launched 32 luxury sister businesses comprised of experts in every luxury division. This includes real estate, travel, luxury retail, wine, art, flowers, private aviation and more (http://www.quintessentiallygroup.com).