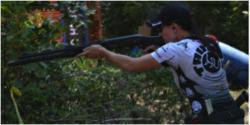 Grand Island, NE (PRWEB) September 27, 2012
Team Hornady displayed their competitive 3-Gun shooting skills at the AR15.com/Rockcastle Pro Am 3-Gun Championship, August 24-26, 2012 at the Rockcastle Shooting Center in Park City, KY. Hornady Manufacturing was a title sponsor for the match, which is part of the popular NBC Sports 3-Gun Nation tour. In addition to capturing division titles, several members of the team taught Pro Clinics, demonstrating shooting techniques, offering winning tips, and discussing how to select the correct ammo for various target presentations and distances.
Jason Hornady, Vice President of Hornady Manufacturing commented, "At Hornady Manufacturing, we enjoy supporting and being involved in matches, particularly when it attracts newcomers to the growing sport of 3-Gun shooting."
Clint Upchurch ran a great match, winning five of the eight Pro stages, as well as the Open Division. Shooting Hornady 125 grain HAP hand loaded bullets in his 38 SC pistol, Upchurch added, "Hornady HAP bullets are incredibly accurate, and the feeding characteristics are always consistent."
For long-range steel targets, Upchurch shot Hornady 223 Rem 75 grain Steel Match in his rifle, noting, "I can always count on Hornady Steel Match for flawless performance."
Jessie Duff won High Lady in the Tac Optics Division, shooting Hornady 115 grain 9mm XTP bullets in her pistol, and Hornady 223 Rem 55 grain V-MAX and 75 grain BTHP bullets in her rifle.
Duff explained, "I use the XTPs in everything I shoot, because they are extremely accurate and reliable. I use the 55-grain ammo for up close targets and out to 100 yards for 3-Gun. When I have to shoot anything further than that, I go to the 75 grain bullets."
Katie Harris won Overall High Lady in the Open Division and High Junior, using Hornady 60 grain V-MAX bullets in her rifle.
Harris said, "I like how super accurate the V-MAX ammo is out to 300 or 400 yards. I know I can rely on it to hit the hard stuff in matches." Harris used Hornady 115 grain FMJ bullets in her 38 Super pistol, noting, "It's the only ammo that functions in my open gun. I love it and won't use anything else."
Keith Garcia finished eighth out of 236 competitors in the Tac Optics Division. Garcia has made it to the final in all four of the 3-Gun matches this year, shooting Hornady 9mm 124 grain XTP bullets in his pistol, Hornady 75 grain Superformance for the long-range targets, and Hornady 52 grain Match bullets for short-range rifle targets.
Founded in 1949, Hornady Manufacturing Company is a family owned business headquartered in Grand Island, Nebraska. Proudly manufacturing products that are made in the USA, Hornady Manufacturing is a world leader in bullet, ammunition, reloading tool and accessory design and manufacture.
For further information regarding Hornady products, visit the company web site at http://hornady.com. Media members interested in Hornady products for editorial review, should contact Everett Deger at edeger (at) hornady (dot) com.