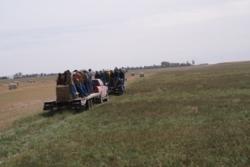 The tour enabled us to see firsthand how sound stewardship of rangelands, for example, can increase species diversity and enhance vegetation, wildlife habitat and water quality." - Dr. Brent Haglund, Sand County Foundation President
Pierre, SD (PRWEB) September 25, 2012
A tour of the Leopold Conservation Award recipient family's ranch, near Raymond, on September 20 demonstrated how critical ranching families are to the health of South Dakota's natural resources.
The tour of Jim and Karen Kopriva's ranch occurred on a day that was deemed "Leopold Conservation Award Day" in a proclamation by South Dakota Governor Dennis Daugaard in which he recognized the importance of conservation on South Dakota's private lands and specifically applauded the Koprivas' "commitment to the health of South Dakota's natural resources."
The tour, which was sponsored by the South Dakota Grassland Coalition, South Dakota Cattlemen's Association and Sand County Foundation, covered several of the Koprivas' conservation practices, including soil, water, wildlife and grassland management techniques.
"The Koprivas are proof that ranchers are some of South Dakota's best conservationists," said Dr. Brent Haglund, Sand County Foundation President. "The tour enabled us to see firsthand how sound stewardship of rangelands, for example, can increase species diversity and enhance vegetation, wildlife habitat and water quality."
Jim and Karen Kopriva's ranch, which they operate with their son, Lee and daughter, Angela, is located near Raymond and consists of approximately 2,000 acres. Initially, the Koprivas were grain farmers but economics and a fondness for cattle prompted the family to transition their cropland to grassland and hayland over the past decade. Today, just 130 acres are no-tilled and cropped. The remaining acreage consists of native rangeland, seeded pastures and hayland.
The Koprivas utilize rotational grazing, which has helped them increase grazing by 50 percent. Their rotational grazing strategy includes cross fencing and water developments, such as two rural water pipelines that are designed to utilize geothermal heat to provide ice-free water for the cattle in remote areas. The family uses controlled burns to combat invasive species. They also have their herd graze cover crops and crop residue, taking grazing pressure off of their pastures and helping to lower costs and dependence on harvested and purchased feed. The Koprivas enhance wildlife habitat on their ranch by leaving some acres on each quarter of their land for wildlife-friendly enhancements such as tree belt and extra wide fencerows.
Tour participants included representatives from the South Dakota Grassland Coalition, South Dakota Cattlemen's Association, Sand County Foundation, as well as attendees from several government and non-government organizations and numerous South Dakota landowners, including past Leopold Conservation Award recipents, Rick and Marlis Doud (2010) and Todd and Deb Mortenson (2011).
The Leopold Conservation Award in South Dakota is sponsored by American State Bank, Belle Fourche River Watershed Partnership, Daybreak Ranch, Ducks Unlimited, Farm Credit, The Lynde and Harry Bradley Foundation, Millborn Seeds, Natural Resources Conservation Service (NRCS), Partners for Fish & Wildlife, South Dakota's Conservation Districts, South Dakota Department of Environment & Natural Resources, South Dakota Farm Bureau Federation, South Dakota Game, Fish & Parks, South Dakota Grassland Coalition, South Dakota State University Foundation, The Nature Conservancy and World Wildlife Fund (WWF).
For more information, visit http://www.leopoldconservationaward.org