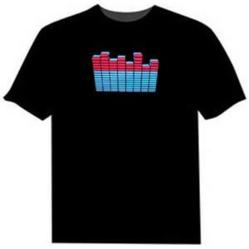 Denver, CO (PRWEB) September 29, 2012
Lightupdecal.com is also announcing five new light up shirts in time for Halloween celebrations. These new designs include; Deadmau5, Candy Skull, Frankenstein, Mad Pumpkin, and Ghost Skull. All are sound activated and promise to make one stand out in front of the crowd at the fall raves, concerts and other events. Other new arrivals to the shop include a selection of light up shoelaces and EL glasses in various colors.
Tshirt designs are available in US sizing for children and adults. The shirts are easy to care for and comfortable to wear. Search the "do it yourself" section on the home page for EL panels to place on any costume or prop. The electroluminescent technology used in the panel is lightweight, cool to the touch, and easy to attach making it a versatile product for many different applications.
Lightupdecal.com will also be hosting a customer contest this month where lucky customers will be eligible to win a free light up shirt of their choice. To be eglible, hit the "Like" button on Lightup Decal's facebook page and share the link on your wall for friends to see. There will be a random drawing October 15th where the winner will be declared.
Custom electroluminescent product designs and items are an easy, creative way for customers to advertise their own products and services which can be easily achieved with a simple jpg design. In addition, Lightupdecal.com will ship worldwide for quick delivery and offer impeccable customer service that has made many first time buyers into loyal customers.