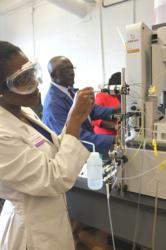 Hampton, Va. (PRWEB) September 26, 2012
The Hampton University Department of Chemistry is investigating ways to prevent water pollution and address water quality issues in the Chesapeake Bay and local community. HU has established a Water Quality Research and Monitoring Laboratory to support research in water quality, to provide training to students and serve as a resource for the Hampton Roads community.
HU is collaborating with the City of Hampton Department of Public Works in an effort to respond to Environmental Protection Agency (EPA) requirements to have a plan that limits the amount of pollutants entering the Chesapeake Bay.
The aim of the collaboration is to implement new measures to improve the efficiency of pollution monitoring systems, as well as develop consistent programs for monitoring their performance.
"The HU water quality research program is an important resource not only for local community water quality issues but it is also a source of needed expertise to respond to established requirements related to the reduction of nutrients entering the Chesapeake Bay," stated Dr. Isai Urasa, chair of the HU Department of Chemistry and principal investigator of the Water Quality Lab.
The Chesapeake Bay supports tourism, transportation, fishing, recreation, and other economic activities, affecting almost 20 million people. Therefore, maintaining a healthy bay is a major priority. The pollution of the bay and its rivers can be traced to urban runoffs, farmland drainage, air pollution from factories, and other activities. Together they produce pollution that impairs the water with toxic heavy metals, persistent organic compounds, pesticides and herbicides, pharmaceutical and personal care products and more.
Urasa works actively with HU students in the Water Quality Lab, training students in different methods of research in the area of water quality.
The Water Quality Lab is equipped with state-of-the-art chemical measurement technology including inductively coupled plasma atomic emission spectroscopy, which analyzes trace elements in samples and high performance liquid chromatography, which separates organic compounds, ions and biomolecules.
Additional tools include mass spectrometry, which provides information on the molecular mass of a compound; ion chromatography, which determines inorganic ions in natural water; and atomic absorption spectroscopy, which is used for the determination of heavy metals.
HU is also collaborating with the Stormwater Department of the City of Hampton to evaluate historic and constructed wetlands in Hampton. The Coliseum Lake wetland treatment pond is currently being monitored.
#HU#