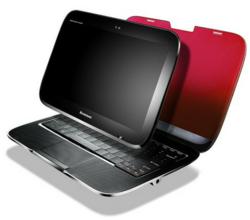 One article in the series refers to 'Merging Laptops + Tablets' and identifies four distinctly different converged designs, and outlines their characteristics.
Austin, Texas (PRWEB) September 26, 2012
Parts-People.com is publishing a series of Technology News Articles focusing on a major convergence trend driving design and development of convertible and hybrid laptops, tablets, smartphones, and other form-factors of PCs entering the global marketplace. One such article on the "Faces of Convergence" states that "convergence of devices into hybrid or convertible forms is clearly the order of the day" and "has been a pervasive topic in technology media circles".
One article in the series by Paul Bottoms-Wordman refers to "Merging Laptops + Tablets" and identifies four distinctly different converged designs, and outlines their characteristics. Those four types are Sliders, Rotators, 360-Degree Gymnasts, and Dockers with split personalities. That same article includes a "List of Fuel Additives Driving Convertible Hybrids".
Five articles in that series on the PC convergence trend deal with smartphones and phablets, including one on "Upcoming Phablet Smartphone Technology Trends & Developments" which states: "Even smartphones of the smaller variety are a veritable symphonic maturation of technology convergence: multi-media player, GPS, camera, web-browsing, mobile-computing, texting, data storage, wireless broadband, voice-control, tethering other devices, touch-based inputs, unified email inbox, on-screen and physical keyboards available; and don't forget, they still function as phones." One article even covers a phone with a built-in projector.
Several of the articles deal with "Inventions & Innovations", such as a PC-on-a-Stick, while others provide information on new technologies such as the Sandia Cooler, and the Tactus Touchscreen.
Convertible Hybrid PC Convergence Articles by Paul Bottoms-Wordman

Intel Ultrabooks' 40% Market Share Magical Mystery Tour: Parsing the Numbers
Dell XPS Duo 12 Laptop-Tablet & XPS 10 Tablet-Laptop: Faces of Convergence
Samsung's P10 Tablet with Exynos 5 Dual May Kick Apple's Core
Sandia Cooler Air Bearing Heat-Sink-Impeller is Quiet & Dust-Immune - Expect Much Faster CPUs
ClamCase ClamBook BYOB Laptop Shell Uses Smartphone as CPU
Tactus Touchscreen Rises to the Occasion & Gets in Touch With Your Inner Keyboard
Watch Out for Falling Laptop Prices: Walmart Could Take Lessons from the Notebook Industry
FXI Cotton Candy PC-on-a-Stick Upstaged by Chinese MK802 Facsimile
Driving Convertibles & Merging Laptops + Tablets = Hybrids
Ultrabooks vs Ultrathins' Prices - AMD Kicks You Know What
Upcoming Phablet Smartphone Technology Trends & Developments
Samsung Galaxy Beam Projector Phone - A Quick Look
Asus PadFone Specs - It's déjà vu all over again
Multifunction Convergence - Fujitsu Lifebook 2013 Concept Notebook
AMD Ultrathins vs Intel Ultrabooks – Upcoming Notebook Sales Trends 2012
Ultrabooks vs Ultrathins Definition, AMD vs Intel - Notebooks & Laptops
1TB Swiss Army SSD USB eSATA II Flash-drive Knife With LCD – Victorinox
2 Trends Stand Out: 2012 Laptops / Ultrabooks / Notebooks
Ultrathin Ultrabook Security, Connectivity Drive Business Sales
Ultrabook vs Laptop vs Notebook vs Netbook
About Parts-People.com
Parts-People.com now stocks more than a quarter of a million Dell replacement parts, and operates an online store which provides one of the largest selections of Dell laptop parts on the internet.
The Parts-People.com web-site delivers technology information services including a news section covering Technology Trends and Gadgets, as part of its online comprehensive knowledge-base resource center. Some of those technology news articles have the goal of making geek fun, with things that make one say wow.
Part-People's Director of Social Media, Roscoe Dyer, offers daily production of online tutorial, do-it-yourself, how-to-repair laptop videos, and continually updated Dell repair manuals.
The online store at Parts-People.com serves a large number of businesses, school districts, government agencies, non-profits, and individual consumers that cannot, or will not make eBay purchases for various reasons. The technical staff is a team of experts trained to work only on Dell products; a significant reason that individuals and organizations order replacement parts or ship their laptops to Parts-People, from all over the world, for service or repair.
Continually increasing parts inventory in Austin's growing technology hub, Parts-People.com now stocks more than 250,000 Dell notebook replacement parts physically in-house, on-site, and ready to ship the same business day.
Established in 2002 as a start-up, entrepreneurial, family-owned business, the company's rapid growth in 2003 became the incentive to consolidate operations in 14,000 square-feet of mixed retail, warehouse, and office space.
Parts-People's growth is bolstered by its location in Austin, which is known world-wide as a technology hub. The area is also home to offices of companies such as: AMD, Apple, Cirrus Logic, Dell, Evernote, Facebook, Freescale, Google, HP, IBM, Microsoft, National Instruments, Nvidia, PayPal, Silicon Labs, and 3M. Often called Silicon Hills, Austin is also known to art, music, and SXSW (South-by-Southwest) aficionados as simply, "the ATX".
Contact Information
Parts-People.com can be reached toll-free at 866-816-5254. The main phone number is 512-339-1990. Fax: 512-339-1996. Technology Journalist: paulbottomswordman(at)lanset(dot)com, paulwordman(at)gmail(dot)com. Company E-mail: info(at)parts-people(dot)com.