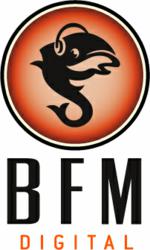 Content ownership has become an important part of BFM's growth strategy...
- Steven Corn, CEO, BFM Digital
Los Angeles, CA (PRWEB) September 25, 2012
BFM Digital, one of the few remaining independent, global digital music companies, announces the acquisition of SongDog Network's extensive catalog of 6,000 tracks, featuring karaoke recordings and ringtones of hit songs from the last 50 years.
SongDog and BFM first teamed up in 2005 to make SongDog one of the first karaoke catalogs available to mainstream consumers via digital stores (iTunes, Amazon, etc.). SongDog has been providing master recordings to the karaoke industry since 1994, and was one of the first companies to license its recordings for use as ringtones and other cellular products. In 2004, Steven Corn, co-founder and CEO of BFM Digital, approached John Collins, President of SongDog Network, with an idea to reinvigorate the business.
"Steve Corn first pitched the idea of selling our catalog through the digital stores in 2004," says Collins. He continues, "After compiling our more than 6,000 tracks into albums that any consumer could easily find online, our sales skyrocketed to hundreds of thousands within the first year. I'm excited to be handing over the catalog to them to continue its success."
Via BFM Digital, tracks from SongDog's impressive catalog have earned synch placements in ABC's morning talk show, Live! With Regis & Kelly; NBC's America's Got Talent; and CBS' broadcast of Victoria's Secret Fashion Show.
"Content ownership has become an important part of BFM's growth strategy," says Steven Corn, CEO of BFM Digital. "When the opportunity arose to purchase SongDog's masters, it made perfect sense, as we've been digitally repackaging and distributing their recordings for more than seven years. With new distribution channels constantly emerging, we are excited about the future potential of this catalog."
Since BFM's launch as a digital music distribution service in 2004, the company has expanded dramatically; offering marketing and publicity services, distribution for film and TV, and adding an A&R department dedicated to creating compilations that breathe new life into catalogs and music libraries.
About BFM Digital, Inc.
BFM Digital is a global digital music company committed to serving the independent music community and delivering quality music, spoken word and video content to leading online retailers worldwide. Representing a diverse catalog of indie labels, artists and publishers, BFM distributes to all of the major music services including iTunes, Amazon, Spotify, Youtube, Rhapsody, eMusic, MediaNet, Beatport, Pandora, LastFM, Rdio, 7 Digital, and many more. With an unparalleled commitment to personalized service, BFM works closely with their content providers from around the world to ensure maximum exposure of theircatalog by customizing marketing efforts and building strong relationships with BFM's digital store partners.
At BFM Digital, we listen, so you can be heard. http://www.bfmdigital.com