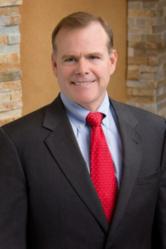 I am so pleased to be part of the Lone Tree community and to provide care to patients in Colorado.
Lone Tree, CO (PRWEB) September 26, 2012
Dr. Randy Robinson, owner of Robinson Cosmetic Surgery, LLC has executed a 10 year lease with BGP Parkridge, LLC, the new owner of the office building at 10375 Park Meadows Drive in Lone Tree, CO. Dr. Robinson continues 20 years of medical practice, specializing in cosmetic surgery, orthognathic (jaw) surgery and oral surgery, in addition to treating sleep apnea and TMJ.
Robinson Cosmetic Surgery will occupy approximately 4200 square feet, to include a state-of-the-art surgery center, procedure rooms, consultation suites and administrative offices. Dr. Robinson anticipates that he will see patients in the new location sometime in Q1 of 2013.
The new location is near a booming medial hub including Sky Ridge Medical Center, Lincoln Surgery Center and many other medical and dental practices. The community of Lone Tree also features excellent shopping, restaurants and outstanding recreational opportunities.
Dr. Randolph C. Robinson has been practicing Cosmetic and Oral Maxillofacial surgery for over 20 years in the Denver, Colorado area and is board certified in these fields. Dr. Robinson has received numerous awards, co-founded and is actively involved in Face the Challenge, a non-profit organization, and holds appointments in various medical programs and societies. For more information on Dr. Robinson and Robinson Cosmetic Surgery, please visit http://www.RobinsonCosmeticSurgery.com or call 303-792-2828.