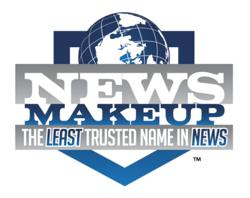 Why Chase A Story When You Can Just Make One Up
New York, NY (PRWEB) September 27, 2012
Satirical news network News Makeup, Inc. – the least trusted name in news – has announced the launch of its website, NewsMakeup.com. The company, based in Queens, publishes articles and editorials on a range of topics including politics, media, entertainment, sports, and more. Additionally, the site features mock blog entries and video interviews conducted with New York pedestrians.
Although it is all made up, the content NewsMakeup.com produces is relevant to current political and news developments. The wide range of coverage is delivered in an acerbic, nonpartisan voice that plays off of the absurdity that dominates the American news media.
While the primary goal of a comedy website is entertainment, NewsMakeup.com is also dedicated to providing insightful assessments of political developments and promoting thoughtful discussion among its readers. For this reason, NewsMakeup.com generates stories that forces people to confront the disturbing realities of politics and culture. Why does a story about the Texas Board of Education redefining slavery in America as the employment of "unpaid interns" sound somewhat plausible? And would Mitt Romney have to go so far as to perform excerpts from The Vagina Monologues on his campaign trail to improve his standing with women?
The website also hosts satirical blogs and recurring segments, including the "Weekly Fast Forward," which reveals news stories a week before they even happen; personal entries by Iranian President Ahmadinejad; and a real advice column managed by a totally imaginary, very egocentric person.
News Makeup Inc., which first gained an audience from its frequently updated Wordpress, continues to foster a rapidly growing following in New York City. Devotees of NewsMakeup.com are already helping the website proliferate through digital and social media.
Amidst a tumultuous and divided political landscape, News Makeup Inc. presses on in search of the truth. Then, News Makeup Inc. abandons the truth in favor of the funny.
###
CONTACT:
President: Adam Gassman
Phone: (718) 344-8287
Email: AdamGassman(at)NewsMakeup(dot)com
Vice President: Conor Biller
Email: ConorBiller(at)NewsMakeup(dot)com