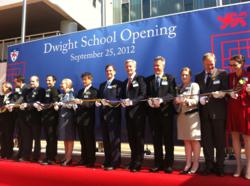 The Dwight Schools are recognized leaders in IB education.
Seoul, South Korea (PRWEB) September 25, 2012
The Dwight Schools, a global network of independent International Baccalaureate (IB) Schools founded in New York in 1872, held its official opening ceremony for VIPs and parents today, marking the establishment of its first permanent campus in Asia. The event was attended by over 200 people, including Stephen Spahn, Chancellor of The Dwight Schools; Ian Chambers, Asia-Pacific Regional Director of the International Baccalaureate Organization (IBO) headquartered in Geneva, Switzerland; Kevin Skeoch, Head of School of Dwight School Seoul; parents, faculty, and students.
"It was an incredible honor for Dwight to be selected by the Seoul Government to bring both IB education and Dwight's signature personalized educational philosophy to the Seoul community," said Stephen Spahn, Chancellor of The Dwight Schools. "Building on the successful history of our campuses in New York, London, and Canada, we look forward to sharing Dwight's unique spark of genius philosophy with our new students and faculty."
The opening ceremonies kicked off with a ribbon-cutting, followed by welcome speeches and an array of musical, dance, and dramatic performances by both local Dwight Seoul students and those visiting from its sister campuses.
"Building Dwight Seoul from the ground up has been a tremendously rewarding experience, and we have been incredibly fortunate to have attracted such a dedicated group of educators and families to our growing global Dwight family," noted Mr. Skeoch. "Given the unique combination of the Dwight reputation and the energy and commitment to educational excellence that pervades Korea, I have no doubt that Dwight Seoul will serve as a transformative model for IB education in Asia."
Dwight was selected from over 120 applicants by the Seoul Municipal Government to open a model International Baccalaureate (IB) School for students in grades preschool-12, providing expanded educational opportunities for Seoul's growing international business community. Dwight Seoul families represent some of the world's largest corporations, including Saudi Aramco, Sabic, General Motors, Mercedes Benz, Volkswagon, 3M, Johnson & Johnson, P&G, Dow Chemical, Vietnam Airways, and Asiana Airlines.
The Dwight Schools are recognized leaders in IB education ― known as the most rigorous college preparatory curriculum in the world ― with Dwight New York being the first school in the U.S. to offer the full IB program from preschool through diploma. Dwight graduates currently attend some of the most illustrious universities in the world, including Harvard, Princeton, Stanford, Oxford, and St. Andrews.
"I have no doubt that Dwight School Seoul will be an exemplar in creating critically thinking and internationally minded students who will take leadership roles and aspire to tackle some of today's most compelling social issues. Dwight has shown a singular vision in focusing on creating outstanding students, and I'm delighted that Dwight is in Seoul, extending its footprint and spreading the IB educational philosophy," said Ian Chambers, Director, IBO, Asia-Pacific Region.
Located on a 200,000-square-foot campus in Seoul's Digital Media City ― the Silicon Valley of South Korea ― Dwight Seoul completed construction in July and opened its doors to 330 students from preschool to grade 10 in August. Grades 11 and 12 will be added to the School in 2013 and 2014, respectively. In addition to a world-class team of educators trained in the IB curriculum, the School offers a 400-seat performing arts center, a two-story library, two indoor gymnasiums, a two-story library, and an outdoor soccer field and playground.
About The Dwight Schools
With more than 500 faculty and staff from over 40 countries, The Dwight Schools educate 2,000 students around the world. The Dwight Schools are led by Chancellor Stephen Spahn, the longest-serving head of school in New York City and recipient of the national Louis Hine Award in 2011 for his commitment and service to youth. For more information, visit http://www.dwight.edu.