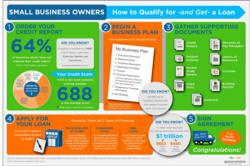 With the small business lending guide, we wanted to eliminate a lot of the mystique that comes with applying for commercial lending
San Antonio, TX (PRWEB) September 26, 2012
Generations Federal Credit Union has released its Small Business Lending Guide which is designed to assist small business owners throughout the process of applying for financing for their companies. The Lending Guide is a comprehensive 30-page brochure that covers topics such as: The Business Plan, Types of Financing, Document Samples and Understanding Corporate Credit.
"Generations has been conducting small business lending for more than 30 years. During that time we have seen again and again that small business owners who are quite savvy in the day-to-day operations of their business, can sometimes struggle when it comes to compiling all the documentation that is required to gain funding," said Andrew Wilson, vice president of lending at Generations Federal Credit Union. "We wanted this guide to be a step-by-step instruction manual for them in an effort to eliminate many of the hurdles, but also a lot of the mystique that comes with applying for business lending."
In a recent infographic entitled '5 Essential Steps to Financing Your Small Business,' Generations highlights the need for small business owners to review their credit reports, formulate an effective business plan, gather all the necessary supporting documents and apply for the loan that best fits their specific needs. In a recent national study, 90% of small business owners indicate that access to capital has been a problem for their business.
"This has been a rough couple of years for small business owners. They were hit not only with the same recession that consumers faced, but then they also had to deal with many of their traditional lines of financing going away. So credit unions across the country, including Generations, are working very hard to let those small business owners know that we are here, we have always been here and we are ready to meet their needs," concluded Wilson.