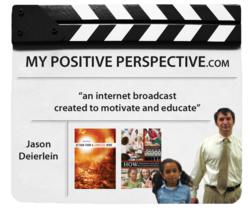 I know there is a road map on how to recover from tragedy, and I'm going to do all I can to help the Collins family out
Charleston, SC (PRWEB) September 26, 2012
In September, 2012, My Positive Perspective host Jason Deierlein recorded an episode with local musician Ben Fagan. The traffic accident Nick Collins was involved in left him comatose and doctors were forced to amputate one of Collins's legs after a tractor trailer ran them over. In the episode, Deierlein was quick to point out that his company, My Positive Perspective, was founded for the purposes of helping in these exact situations. Looking back on his own accident, Deierlein says, "You really have to get the situation under control. This awful thing happened and clear thinking is required here.
You can't worry about what you no longer have. Try to keep calm and focus on recovery." Without doubt this is going to be extremely hard for the whole Collins family, but the good news is that progress is being shown every day towards recovery.
Fellow musician Ben Fagan wants Collins to know that he's not alone and says of the tragedy, "As musicians, we travel a lot. I never even thought about what it would be like not returning home from a concert safely, but bad things happen in life." Fagan also noted that "Deierlein is probably the best person for Collins to talk to because he has been through all this and recovered." Tragically, the chances Collins will be able to make a full recovery are remote if not impossible.
However, Deierlein did have the following advice for Collins and his family, "Your ability to stay positive throughout the duration of your recovery will dictate the extent of which you are able to recover." That may not seem plausible right now, but the important thing Fagan and Deierlein want the entire Collins family to know was verbalized best by Fagan, "We felt it, as fellow musicians and coma survivors the news came as a shock to us. You have a large community here that's wants to do anything they can to help see you thorough this tragedy."
My Positive Perspective is committed to improving lives and attitudes. When tragedy strikes, we want to be the first organization family members think of reaching out to for help. Helping people and their families recover from tragedy is what this company does, it is the foundation of our existence.