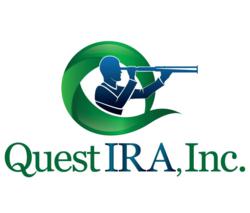 Quest IRA has found that the best investor is an educated investor
Houston, TX (PRWEB) September 27, 2012
Quest IRA was built on educating the investment public about their options with their retirement accounts. In the month of October and once per quarter they expand their free educational class offering to Saturdays as well. For those that have not been able to make it during the week, this is a chance to get two great educational classes in one day. The two classes are: "Self-Directed IRAs 101: What Every Investor Should Know" and "Create Income Streams with Your IRA: Private Lending".
"Education is the key to the growth of the company and the self-directed IRA industry" said Nathan Long, CEO at Quest IRA. "With only a small percentage of investors knowing what their investment options are in retirement, we realize that we have our work cut out for us. Quest IRA has found that the best investor is an educated one, and we are doing our part to make sure we can educate as many investors as possible by holding these Saturday workshops."
"The Quest IRA Specialists are excited to get these two great workshops on the calendar in October" stated Beatriz Oliva, Central Texas Director at Quest IRA. "Every time we have these Saturday classes they are always very well attended with a room of potential new investors and even some experienced investors who are just looking to get a refresher of the information. Another aspect is the great networking that goes on at every Quest event; it gives all investors a reason to carve out a couple hours every few months to come to these events to surround themselves with like-minded investors."
The Quest IRA, Inc corporate office is located at 17171 Park Row, Suite 100 Houston, Texas 77084. Quest IRA currently supports more than 5000 customers with online accounts and reaches approximately 20,000 customers monthly via their social media and online marketing activities. At each event, Quest IRA networking mixers average 100-150 like minded investors in attendance.
ABOUT QUEST IRA
Quest IRA, Inc. is the leading provider of self-directed retirement account administration and education. They are the experts and authorities when it comes to "alternative" investments like real estate, notes, precious metals, oil & gas, private placements, etc. within an IRA, HSA, ESA or 401(k)s. They administer client's accounts from across the nation but the corporate office is located in Houston, TX with offices in Dallas, TX, Austin, TX and Mason, MI. They currently administer over $500MM in client assets for over 5000 clients.
Those interested in learning more about self directed IRAs and Quest IRA, Inc. can visit http://www.QuestIRA.com. Anyone interested in Quest's free educational classes, webinars and networking events can call 800.320.5950 for more information.