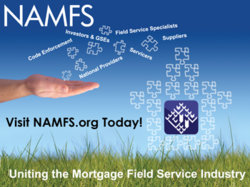 Stow, OH (PRWEB) September 27, 2012
The staff, members and current board of NAMFS are happy to welcome four new board members for 2012-2014. New Board Members were officially seated on Saturday, September 15, 2012 during the closing session of the annual NAMFS conference. By engaging new leaders, NAMFS continues to promote the mortgage field service industry and support positive change for all involved.
Regional Board Representatives:
Heather Berghorst is Co-Owner and President of Berghorst Enterprises in Holland, Michigan. She began her career in the quality assurance field for the processed food industry and then moved into marketing and management within the furniture industry. In 2001, Heather entered the mortgage field services industry. Her responsibilities for the company include finance, operations and business development.
Joel McCall is the president and founder of McCall Field Services Inc., a Florida based property preservation and REO servicing company. Prior to founding McCall Field Services Inc in 2008, Joel held roles within the industry including Senior Vice President of Operations for Mortgage Contracting Services from 2003-2008, Pre-Conveyance Property Preservation Manager for M&M Contractor Golden Feather Realty, and Supervisor of Loan Servicing Release for CSB.
National Board Representatives:
Kris Katoa is the VP of Client Relations/Vendor Management at White Van Real Estate Services LP. Ms. Katoa has over 20 years of experience and has been involved with NAMFS since 1997. In her first 10 years of employment, Kris worked closely with pre-foreclosure properties. In 1997, Kris transitioned to dealing specifically with post-foreclosure properties. She has been at White Van since 2011 and has previously been elected to the board from 2007-2011. At White Van, Kris works closely with and manages a staff that oversees clients and contractors around the country.
Chuck Sockol is Vice President of Vendor Relations at ASONS Property Preservation and Construction Services. Chuck has specialized in field operations and vendor management for over 16 years. He has extensive and diverse experience in the sourcing, training, deployment, coaching, and performance management of field service personnel in a variety of service venues including the mortgage and automotive financial services industries. He has developed and deployed vendor networks to implement field service programs including: data collection; inspection; audit; and preservation, maintenance, and construction services.
These individuals are joining a wonderful team of professionals who are working hard, along with its members, to provide information, education, communication and advocacy regarding the industry.
The current NAMFS officers include:
Deanna Alfredo, NAMFS President and President of Property Maintenance Inc.
Adam Miles, NAMFS Vice President and Owner of Miles Preservation.
Paul Magaha, NAMFS Treasurer and Assistant Vice President of Industry Relations for LPS Field Services.
Previously Elected NAMFS Board Members include:
Palmer DePetro, Director of REO Regional Coordinators for Safeguard Properties.
Adriana Farelo-Fernandez, President of Farelo Group.
Jeremy Pettinger, VP of Operations for Real Estate Inspection and Recovery Services, Inc.
Elspeth Spransy, Assistant Vice President of Vendor Management for Mortgage Contracting Services LLC.
About NAMFS
The National Association of Mortgage Field Services, Inc. (NAMFS) is the premier trade association for the mortgage field service industry. We are dedicated to working with all entities of the industry from the Government Agencies and investors that set policy to the contractors and inspectors that perform the work.