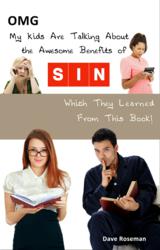 (PRWEB) September 26, 2012
Confident and skilled negotiators come out on top. They are paid what they are worth, know the right words and approach to use, and rarely leave without the results they want —whether at school, work, or any other situation. Being an excellent negotiator is the drive behind a new book by the international expert, Dave Roseman; CIA has called him its "secret weapon." Roseman has written a 'how to' book for young adults—late teens, 20s, early 30s. OMG My Kids Are Talking About the Awesome Benefits of S.I.N. (Which They Learned From This Book!) is a Success In Negotiating guide with proven techniques that are easy to understand and apply, and extremely effective.
OMG My Kids Are Talking About the Awesome Benefits of S.I.N. readers are shown how to start any negotiation successfully, the steps to take with difficult people, and are taught some of CIA's best techniques. Readers will learn why sage advice like "keep your friends close and your enemies closer," is an awful negotiating technique. The techniques in this book worked for Roseman, whose extraordinary skills have been requested by heads of government and other leaders in America and on five continents.
OMG My Kids Are Talking About the Awesome Benefits of S.I.N. is the only negotiating book written specifically for young adults, but no one is too old to learn from Roseman or to LOL at his humorous examples. All readers will have the ability to confidently negotiate, be the chief officer on negotiations for big-ticket items, avoid negotiating mistakes, and be all-around better equipped to ask for the grade or other result they know they deserve in everyday situations.
Dave Roseman was one of the highest ranking officers in CIA's clandestine service for 20 years. His chief responsibility was negotiating—worldwide. He has worked with presidents, heads of powerful intelligence services, royalty, the United Nations, a Nobel Peace Prize winner and others. (He also successfully battled corporate Goliaths for family and friends.) He recently retired from the Agency, with his work in effect today in Europe, Asia, Africa, North America, the Middle East and Latin America. For more information, visit http://www.SuccessInNegotiating.com.