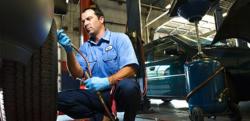 traditional credit scoring punishes people for past challenges well beyond its expiration date of relevance
Port Saint Lucie, FL (PRWEB) September 27, 2012
Over the past five years, forty to fifty percent of consumers have been re-classified as sub-prime and can no longer be approved for traditional consumer financing, This trend has caused businesses of all kinds, to lose a substantial portion of their potential sales.
FLEXXBUY was designed to change all that and provide businesses with a way of capturing customers that desperately need or want their product or service, but otherwise are unable to do so because they lack the money, access to credit, and a credit score that would make them eligible for traditional financing.
FLEXXBUY is not a "one size fits all" approach to consumer financing. Businesses are set up with the consumer financing solution that best fits their needs as well as the needs of their customers. Financing solutions vary from a few hundred dollars to $5,000 or more. Unlike with traditional lenders, with FLEXXBUY, the consumer's credit score is of no consequence what-so-ever.
What businesses appreciate most of all with FLEXXBUY, is the ease of getting a response of yes or no. Response time usually is about 5 minutes and it takes little effort or manpower. And with FLEXXBUY, the business receives one hundred percent of their sale within 48 to 72 hours.
FLEXXBUY can be utilized by many business types including, auto repair, home improvement, healthcare and veterinary, attorneys, retail, as well as many others. Consumers are loving it as well because they are able to take care of that basic need with terms they can afford. It also allows them to save whatever minimal resources they may have without having to deprive themselves and their families.
According to Bob Lovinger, creator of FLEXXBUY, the need for this has been a long time coming. Lovinger claims that the traditional way of judging consumer credit worthiness is outdated and in need of a change. He says, "traditional credit scoring punishes people for past challenges well beyond its expiration date of relevance. Who hasn't had a financial challenger over the past five years? Fortunately, we have found lenders that look at people differently and base decisions on their ability to pay back their obligations today, not one, two, or five years ago."
While FLEXXBUY caters to people who have credit challenges, it can also provide a competitive option for those that are considered "prime". Lovinger adds, "while a good number of people are credit challenged, many don't have those issues but just lack a comfortable level of liquidity and would rather leverage their major purchases."
The bottom line is that FLEXXBUY gives consumers options and by doing that, it allows businesses to expand their reach and their profits.