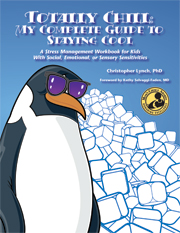 Innovative and practical strategies for relaxation and stress management.
Overland Park, Kansas (PRWEB) September 27, 2012
AAPC Publishing is pleased to announce that Totally Chill: My Complete Guide to Staying Cool has won a coveted, Mom's Choice (Gold) Award in the Juvenile Book Category, Level 1. The Mom's Choice Awards® (MCA) evaluates products and services created for children and families. The program is globally recognized for establishing the benchmark of excellence in family-friendly media, products and services. The organization is based in the United States and has reviewed thousands of entries from more than 18 countries.
Around the world, parents, educators, retailers and members of the media look for the MCA mother-and-child Honoring Excellence seal of approval when selecting quality products and services for children and families. An esteemed panel of judges includes education, media and other experts as well as parents, children, librarians, performing artists, producers, medical and business professionals, authors, scientists and others.
Totally Chill: My Complete Guide to Staying Cool, authored by Christopher Lynch, PhD, is a practical stress management workbook that supports children in learning and practicing their stress management skills. To help with understanding and motivation, the stress management principles are presented in factual/scientific terms. Appealing to kids, there are motivational opportunities to earn two ice blocks at the end of each chapter. Children, students and clients come to feel that this is "their" book. As the child progresses through the workbook, these ice blocks are used to build a stress management igloo. Each child's stress management igloo will help him or her to withstand sources of stress that inevitably come up in life.
About the Author
Christopher Lynch, PhD, is a clinical psychologist and program coordinator of the Pediatric Behavioral Medicine department within Goryeb Children's Hospital. Dr. Lynch provides extensive services for children who have social, emotional, behavioral and/or sensory needs. His passion and career focus has been on therapy services to help these children develop stress and anxiety management skills. With more than 15 years of experience in the field of child behavioral health, Dr. Lynch has practiced in a variety of settings, including schools, hospitals and clinics, including five years in Ireland. Dr. Lynch has spoken on and published materials on a wide range of topics that pertain to child behavioral health. He resides in Cranford, New York, with his wife and three sons.
About AAPC Publishing
Established in 1999, the mission of AAPC Publishing is to be the first source for practical solutions related to autism spectrum and related disorders. AAPC Publishing is an independent publisher, targeting professionals and parents alike. AAPC Publishing strives to offer publications at affordable prices so that important resources are available to anyone with an interest in the autism spectrum.
For media inquiries, please contact marketing(at)aapcpublishing(dot)net.