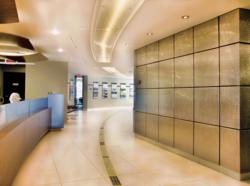 (PRWEB) September 26, 2012
IBI Group fell in love with the detail and quality of wire mesh while working on a project for one of its clients. As a result of that experience, the company chose to utilize Banker Wire woven mesh in the renovation of its new office space in Edmonton, Alberta.
The goal was to create interesting gallery and boardroom areas that reflected the IBI Group's expertise. Because it was an interior installation, the company wanted something that was structural looking yet refined. In discussions with Banker Wire, IBI Group expressed a desire to fold the mesh ends over to form a "natural" edge, while holding the mesh off the wall with no visible means of connection. Banker Wire proposed creating mesh wall tiles, then devised a unique hidden corner bracket to support the four corners of each "tile."
"The finished product is impressive – a clean and simple look that, from a distance, is substantial," said Corry Bent, Senior Interior Designer of IBI Group, a multi-disciplinary consulting firm offering services in four areas of practice: Urban Land, Facilities, Transportation, and Intelligent Systems. "Everyone who sees the installation touches and comments on it. We chose Banker Wire because of the beauty and richness of the stainless steel woven wire mesh, as well as the responsiveness of their team."
The wire mesh tiles create an ambience that inspires creativity in an office that thrives on the creative spirit. Banker Wire's S-18 architectural woven wire mesh was selected for the project because its mid-scale pattern imparts a refined quality.
"This particular wire mesh has a basket-weave texture that allows the walls to peek through. Layering the mesh creates a visually-pleasing 3-D effect," said Harrison Horan, Vice President of Banker Wire. "Banker Wire provided full turnkey services for this project – from the woven wire mesh, to the fabrication of the look, to developing an 'invisible' attachment method."
Banker Wire was established in 1896 by Charles Banker as C.I. Banker Wire & Iron Works. Located in Milwaukee's 5th Ward, the company originally built wrought iron and wire products used for fire escapes and bank-teller cages. Today, Banker Wire employs nearly 100 people and is the world's leading manufacturer of woven and welded wire mesh for industrial and architectural applications.
About Banker Wire
Headquartered in the Milwaukee area, Banker Wire is the worldwide leader in the manufacture of wire mesh for architectural and industrial applications. Products include highly customizable woven and welded wire mesh. Banker Wire consistently challenges the status quo and creates cutting-edge wire mesh products designed to meet and exceed its customers' needs and desires. For more information, visit http://www.bankerwire.com.
###