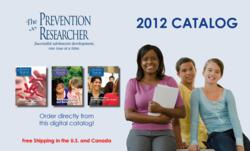 ... Catalog of Publications for professionals who work with youth ...
Eugene, OR (PRWEB) September 27, 2012
The Prevention Researcher has expanded the digital edition of its 2012 Catalog of Publications focused on successful adolescent development for professionals who work with youth.
The digital catalog features new print issues of the journal on adolescent self-esteem and the prevention of adolescent bullying. New digital-only article packs are also available on the topics of self-injury, supporting LGBT youth, teens and drugs, school connectedness and completion, and strategies for working with parents and caregivers.
"Providing professionals with the latest research on adolescent behavior and today's best practices for working with young people is our mission," said Steven Ungerleider, PhD., founding editor of The Prevention Researcher. "We're pleased to expand our digital catalog, offering online access for ordering single issues of the journal."
The new issue on Adolescent Self-Esteem explores the subject of self-esteem among youth, especially on avenues for improving their self-esteem. The new Adolescent Bullying issue reviews the most recent research on bullying and its implications for prevention and intervention.
New article packs combine articles from different issues of The Prevention Researcher and are digitally delivered. The "Self-Injury" pack includes three articles designed to better equip professionals who help self-injuring youth; "Supporting LGBT Youth" offers eight articles that are helpful for creating positive family, school, and community environments that support LGBT youth into healthy adulthood; "Teens & Drugs: School and Community Approaches" provides eight articles which focus on preventing teen drug use, plus address needs of youth who have substance-abusing parents
The "School Connectedness and Completion" article pack offers thirteen articles revolving around a model of school success which includes the synergistic roles of schools, peers, families, and neighborhoods in preventing school dropout and promoting school connectedness. A collection of fourteen articles covering a wide variety of issues which youth and families may experience are included in "Strategies for Working with Parents and Caregivers."
To view additional information about the new publications and article packs, link directly to view the digital catalog or visit http://www.tpronline.org/catalog for more information from The Prevention Researcher.
About The Prevention Researcher
Founded in 1994, The Prevention Researcher is published by the non-profit, Integrated Research Services in Eugene, Oregon. The quarterly journal focuses on successful adolescent development and serves professionals who work with young people in a variety of organizational settings.
Each issue of The Prevention Researcher covers a single topic, presenting the latest adolescent behavioral research and findings on significant issues facing today's youth. Articles are written by researchers who are leaders in their respective fields.
The journal provides information about programs that create supportive environments for youth, strategies for preventing problems affecting adolescents, and resources that help youth-serving professionals. Major topics covered in The Prevention Researcher include adolescent development, mental health, schools, families, communities, victimization and violence.