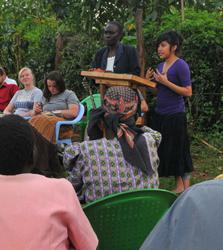 ...the youth from Wayland are spreading the gospel and teaching our people to see God in their life.
Kakamega, Kenya (PRWEB) September 27, 2012
As the gospel continues to spread throughout western Kenya, it has become apparent to local Baptists that the next logical step is to educate the children. This challenge is being met head-on by Pastor Obadiah Litabalia Alubisia who is joining forces with Dr. Rick Shaw and Wayland Baptist University to offer a youth training conference in July 2013.
Alubisia, a 2008 graduate from the Wayland degree program in Kenya, is pastor of Christ the King Baptist Church and serves as an informal director of missions for Baptist churches in western Kenya.
Shaw, director of the Wayland Mission Center, located on the university's main campus in Plainview, Texas, and head of the school's degree program in Kenya, takes mission teams to the African nation twice a year to work with Baptist churches and organizations. One of those churches is Christ the King Baptist Church, located in Kakamega. Alubisia said the idea of offering a youth conference was born from the work done by the university students who accompany Shaw on his annual mission trips.
"We have had these young people teach in our churches, preach in our churches, and whenever we hear them preach and teach we are very much challenged with how the youth from Wayland are spreading the gospel and teaching our people to see God in their life," Alubisia said.
He explained that one of the biggest challenges facing Baptist churches in Kenya is leadership training and development. Over the years, he said, there has been little effort to prepare coming generations to assume leadership roles in the church. As Alubisia considered that challenge and reflected on the work he had seen from the students on Shaw's mission teams, he realized that he and Shaw could work together to bring that model to his association.
As part of his own training program, Shaw places his young students in leadership positions when he takes them on short-term mission trips. He pointed out that even in the United States, churches rarely give young people an opportunity to lead in worship services or ministry efforts, and students often seem reluctant to take advantage of the opportunities that are given to them. However, since they often already are out of their comfort zones on a short-term mission trip, he has found that it is not too great a stretch for them to go a bit farther and take on leadership responsibilities.
"If I will place them and give them opportunity for experiential leadership, rarely do they mess up," Shaw said. "They're not super eloquent speakers, they're not super eloquent preachers or leaders but we give them the latitude and the freedom to make mistakes. And in the experiential laboratory of the mission field, they're able to begin, for the first time in many cases, to learn leadership."
Shaw put that plan into action on a recent trip to Kakamega when he asked Plainview native Monique Lucio to bring a message to the Calvary Baptist Church Under the Tree. The church derives its name from the fact that it has no building and meets under the shade of a tree on the outskirts of the city. It is a vibrant congregation with a strong mix of adult and youth, men and women.
Lucio was to make a 15-20 minute presentation of the Gospel and then Shaw was to follow with a sermon on a topic of his choosing. As the professor listened to his young team member share the Word, though an interpreter, with the people gathered under the tree he considered what message the Lord would have him bring. As he looked across the congregation, it came to him — a message from the book of Titus.
"It crossed my mind when we were at Calvary Baptist Church, when I saw a congregation with much energy and much vitality, and a robust congregation of old people, middle-aged people, young people. When I asked the Lord what text to preach from, I was immediately drawn to Titus 2, which talks about in the church. Paul writes to Titus and talks about older men and older women, younger men and younger women and the roles of each of those groups within the church. I had yet to see in the Kenyan church, young leadership," Shaw said.
From that beginning, he expanded the message the next day to a group that included several area pastors, along with key members of their churches who had gathered for leadership training. As part of that service, Shaw had each group spend about 30 minutes developing a plan, to be implemented over the next 12 months, aimed at identifying and training young people within their own congregations for future leadership roles.
The messages Shaw brought fit perfectly into the plans Alubisia had begun to formulate and the two agreed to prepare for a conference to coincide with Wayland's July 2013 mission trip to Kenya.
Although the conference is still in the planning stage, Shaw feels that it will have a mighty impact on the people of Kenya.
"Each time (to Kenya) I bring students and each time they preach or they teach or disciple or lead in some way. Obadiah sees our students doing those things. He knows that Kenyan students, Kenyan young people, can do the same thing. And I believe that's where he is wanting Kenyan youth of the church to go. He realizes that the Kenyan church really must begin to raise up young men and young women," Shaw said.
--30—
Wayland Baptist University is a faith-based, liberal-arts institution of higher learning based in Plainview, Texas, offering bachelor's and master's degrees in face-to-face settings as well as online degree programs.