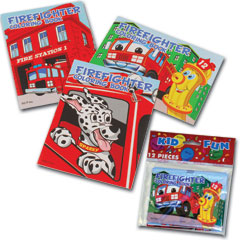 Chicago, IL (PRWEB) September 27, 2012
Fire Prevention or Fire Safety Week is held every year around October 8th and 9th. This is because these were the dates of some of the worst fires in American history. This year, it falls on the week of October 7th through the 13th. Windy City Novelties provides Fire Safety Items that will get children excited to learn about fire safety and prevention.
Fire Prevention Week began in the early 1900s to remember The Great Chicago Fire along with other disastrous fires, such as the Peshtigo Fire in Wisconsin, which occurred in the year 1871. According to the National Fire Protection Association, every year since 1925, Fire Prevention Week has been a national observance during the week of the anniversary of such fires. The purpose of Fire Prevention Week is to inform children, and families, how to prevent fires from occurring. They also raise awareness to fire safety and what to do in case of a fire. Each Fire Prevention Week has a certain theme, and this year's theme is "Have Two Ways Out". This encourages families to have a fire escape plan with not just one, but two ways to escape from the home. This ensures that there is a definite way to exit the home safely if a fire should happen.
Windy City Novelties encourages children and their families to be knowledgeable of the precautions to take if a fire should occur. Oftentimes, elementary and middle schools have local firemen enter their classrooms each year to teach young students about the importance of fire safety. Windy City Novelties provides plastic Firemen Hats that firefighters can hand out to the students to get them excited to learn about fire safety. Or, sometimes schools will schedule field trips to the local fire station instead. Distributing Junior Firefighter Badges to the kids will inspire them to be cautious and courageous just like their town's firemen.
If fire prevention and fire safety are not taught at the children's school, parents should take the time to teach their children at home. Visiting the National Fire Prevention Association's website will let parents know what to tell their children in order to make them knowledgeable about the dangers of fire. Windy City Novelties' Firefighter Coloring Books will help the little ones that are not able to read to learn fire safety measures. The coloring books provide vivid images about firemen and fire safety procedures. Fire prevention and fire safety are very serious matters. With wildfires occurring in several areas in the U.S. over the past few months, Windy City Novelties advocates every family to be informed about the damages fires can cause and ways to safely escape them, or prevent them from happening.
ABOUT WINDY CITY NOVELTIES
Windy City Novelties, a party supply company founded in 1983, is known for their great selection and competitively priced items. They have an A+ rating from the Better Business Bureau and are also a NexTag 5 star Seller. From their website, windycitynovelties.com, they offer fast and friendly shipping along with great customer service. From glow sticks in every color of the rainbow, to party decorations in a variety of themes, and even a vast selection of Halloween costumes at the best prices, Windy City has over 15,000 products and adds more each week.