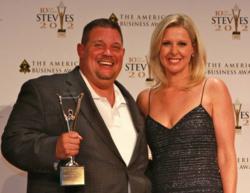 2012 has been an extraordinary year for us in terms of revenue growth and the amount of awards we have won.
Farmingdale, NY (PRWEB) September 26, 2012
Nutricap Labs, a New York-based vitamin manufacturing company, was named to the American Business Awards' list of Top 10 Organizations based on their overall performance during the 2012 competition.
A new addition to the American Business Awards' repertory of awards, The Top 10 Organizations category could not be applied for directly. Winners were determined based on the total number of awards points earned during the 2012 ABA competition. Gold Awards earned counted for 3 points, Silver Awards for 2 points, and Bronze Awards for 1.5 points.
In total, Nutricap Labs won 17 Stevie Awards, including Gold Awards for Manufacturing Executive of the Year and Marketing Department of the Year. The Company also won Silver and Bronze Awards in categories such as Manufacturing Company of the Year, Customer Service Department of the Year, and Fastest-Growing Company of the Year – Up to 100 Employees.
The American Business Awards are the nation's premier business awards program. All organizations operating in the U.S.A. are eligible to submit nominations – public and private, for-profit and non-profit, large and small.
More than 3,000 nominations from organizations of all sizes and in virtually every industry were submitted this year for consideration in a wide range of categories, including Most Innovative Company of the Year, Management Team of the Year, Best New Product or Service of the Year, Corporate Social Responsibility Program of the Year, and Executive of the Year, among others.
Upon learning of this honor, Nutricap Labs' President and Founder, Jason Provenzano, said "2012 has been an extraordinary year for us in terms of revenue growth and the amount of awards we have won. The fact that Nutricap Labs is included in the same list as John Hancock and Accenture speaks volumes about the kind of company we are and the level of service we provide our customers with."
Details about The American Business Awards and the lists of Stevie Award winners who were announced on June 18th in New York and September 17th in San Francisco are available on stevieawards.com/aba.
About Nutricap Labs:
A leader among vitamin manufacturers worldwide, Nutricap Labs provides its customers with manufacturing, graphic design, order fulfillment and drop shipping services under one roof. Since 2009, the Company has won over 20 American Business Awards, is a four-time Inc. 500 | 5000 Honoree and has received numerous accolades from leading business and entrepreneur advocates such as Ernst and Young and Best In Biz. For more information about our services, please visit our website or call (800) 494-6154 to speak to one of our product advisors.
About the Stevie Awards
Stevie Awards are conferred in four programs: The American Business Awards, The International Business Awards, the Stevie Awards for Women in Business, and the Stevie Awards for Sales & Customer Service. Honoring organizations of all types and sizes and the people behind them, the Stevies recognize outstanding performances in the workplace worldwide.