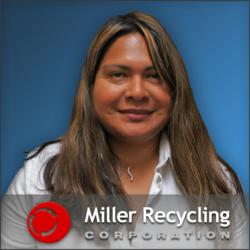 We look forward to Maria's continuing excellent service in supporting the many critical areas of the Miller Recycling Corporation's operations."
Mansfield, Massachusetts (PRWEB) September 27, 2012
Miller Recycling Corporation announced today that it has promoted Maria Reyes to In-House Sales and Marketing Coordinator. She will be responsible for all Miller Recycling marketing services and its Confidential Shredding Division, Northeast Data Destruction.
Based on her excellent service, continuing sales growth, and new marketing initiatives at Miller Recycling, Maria Reyes will now head up the internal marketing and sales activities for the corporation. She will also work closely with all outside marketing resources and organizations.
Maria joined Miller Recycling in 2007 as an Administrative Assistant supporting the daily operations in the front office. Soon thereafter, Maria was given the additional responsibility for in-house sales and support the outside sales force.
"We look forward to Maria's continuing excellent service in supporting the many critical areas of the Miller Recycling Corporation's operations," states Randy Miller, President.
About Miller Recycling Corporation
Operating since 1940, Miller Recycling is a fourth-generation company with the experience required to assist with all paper, plastics, metals, and electronic scrap recycling requirements. Northeast Data Destruction, its NAID "AAA" Certified confidential shredding division, securely process all your sensitive documents, files, media, hard drives, tapes, CDs, off-spec products, and storage components. Miller Recycling Corporation also provides 15-, 20-, 30-, and 40-yard open-top Roll-off containers for its customers. Nationwide service is available. For additional information call 800-783-6766 or visit at http://www.millerrecycling.com.