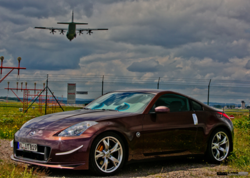 Thank you so much. I really appreciate it
Miami Flordia (PRWEB) September 26, 2012
With the Votes Tallied Online Car Accessories Startup will Award the $1000 Check to the mAuto Sunshade Sweepstakes Winner this Week
"The winner of the mAuto Sunshade Sweepstakes is.... 'Carla Marzouka'!!"
This is the message that greeted the winning participant Carla Marzouka, of Pembroke Pines, Florida, who amassed the highest number of votes, a total of 750+, in the mAuto Sunshade Sweepstakes that ended August 31, 2012.
The contest format was simple, entrants needed to submit a photo of their car with one of the new eyes car sunshades manufactured by mAuto and then ask friends, family etc. to vote for them in an effort to get the most votes on mAuto's Facebook fanpage to win.
Marzouka's winning photo of the Angry Eyes Car Sun Shade on her car pushed her entry to the top of the vote standings. On winning the cash prize, she has expressed excitement at the news: "Thank you so much. I really appreciate it." The company expects to present her with the cash prize in the coming days.
The Sweepstakes saw entries from across the continental US. The competition picked up speed and came to a thrilling end with a heated race for votes. All told, over 5000 fans, known as "mSters" helped to make the contest a success for mAutoStore.com and of course for Marzouka.
On the heels of a thrilling contest, there's yet more excitement at mAuto, which has other cool car accessories in production. The creative startup has a brand new collection of windshield sun shades in the works and while remaining tight-lipped about an official release date, mAuto confirmed that the distinct designs of the new sun shades are based on customer feedback.
mAuto Store is an online car accessories retailer and manufacturer http://www.mautostore.com based in Aventura, Florida. The company whose USP is "You Drive Us" offers a unique online shopping experience for customers and features products developed from customer feedback.