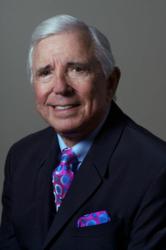 Mike Levitt has been at the forefront of every initiative and innovation in the affordable housing industry.
Marlton, NJ (PRWEB) September 27, 2012
Affordable Housing Finance Magazine has announced that Michael J. Levitt, founder and Chief Executive Officer of The Michaels Organization, has been named a 2012 inductee to the Affordable Housing Hall of Fame. Following his induction ceremony this November, Mr. Levitt will join an impressive group of inspirational leaders who have been bestowed this honor for making major contributions to the advancement of affordable housing opportunities in the United States.
"We are so proud to work for Mike and the organization that bears his name," said John J. O'Donnell, Michaels' Chief Operating Officer. "This honor is well-deserved as Michael has been in the forefront of every initiative and innovation in the affordable housing industry for his entire career," O'Donnell said.
Levitt began his career in the building industry just as the Federal Housing Administration was introducing a wave of new housing finance programs to subsidize the production of affordable apartments, Levitt turned his focus to building multifamily housing for low and moderate-income families.
By 1965, when the U.S. Department of Housing and Urban Development (HUD) was created as a cabinet-level department charged with overseeing the nation's housing and community development programs, Mike Levitt was among the first private-sector developers to visit HUD and to begin using its new approaches for creating affordable housing.
"I remember that as early as the 1960s, Mike was figuring out ways to better finance these projects," says real estate lawyer Lee Levine of Levine Staller. "The programs didn't direct themselves so much to interest rates at that time as supplementing incomes; but, Mike figured out that by pooling large sums of money and using a daily interest rate, he could offer his investors better returns as well as less risk," Levine said. This innovation launched Michael into becoming one of the most successful developers of low-income housing in the country."
In 1973, Michael founded the first two of the companies that would eventually become The Michaels Organization: The Michaels Development Company and Interstate Realty Management. Today, Michaels Development is among the nation's top-ranked private sector owners of affordable housing, and one of the most active affordable housing developers in the country. Interstate Realty Management Company is among the top 1 percent of property management companies to earn the Accredited Management Organization designation and is nationally acclaimed for its best practices in supportive services. Interstate Realty Management is also HUD's most active Neighborhood Networks partner.
In addition to pioneering success in affordable and mixed-financed communities through programs such as Section 8, HOPE VI, and the Low Income Housing Tax Credit, Michaels blazed trails as an organization committed to giving back to the communities where it develops, owns, and manages housing. In 1991, Michael J. Levitt established the first program in the affordable housing industry to provide educational scholarships to residents. Since then, The Michaels Organization Educational Foundation has awarded more than $3.1 million, benefitting more than 1,500 traditional and non-traditional students, who can use the grants to attend any college, university, or accredited vocational training program in the country. All private contributions to The Michaels Organization Educational Foundation are matched two-for-one by Michael Levitt and his wife Patricia Levitt.
From its beginnings as a four-person office almost 40 years ago to today as a family of eight operating companies employing more than 1500 people throughout the country, The Michaels Organization remains a reflection of the guiding spirit and vision of its founder, Michael J. Levitt, whose commitment to "doing well by doing good," has never wavered.
Levitt will be inducted to the Affordable Hall of Fame during a luncheon awards ceremony on November 16 at the Affordable Housing Live Developers' Summit in Chicago.
About The Michaels Organization
The Michaels Organization is a family of eight integrated but independent companies dedicated to excellence in affordable, mixed-income, military, and student housing. Our mission is to create attractive residential communities for families, seniors, military service members, and students that stand the test of time and that are managed to maximize long-term value for residents as well as investors. Serving more than 100,000 residents in 340 communities across 33 states, the District of Columbia, and the U.S. Virgin Islands and with a development portfolio valued in excess of $3 billion, The Michaels Organization is a national leader in the residential real estate industry, with full service capabilities in development, property and management, construction, mortgage finance, and tax credit syndication.