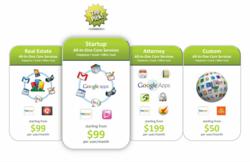 "The Google Apps Reseller program will help us provide Google Apps to SMBs including Real Estate Agents, Legal Professionals with our customizable solutions," said Kasey Kollross, CTO LANhome TECHnologies."
(PRWEB) September 26, 2012
Google Apps brings simple, powerful communication and collaboration tools to organizations of any size – all hosted by Google to streamline setup, minimize maintenance, and reduce IT costs. With Gmail (including Google email security, from Google Vault), Google Calendar, and integrated IM, users can stay connected and work together with ease. And, using Drive, Google Docs and Google Sites, which include word processing, spreadsheet, presentation and website creation tools, they can share files and collaborate in real-time, keeping versions organized and available wherever and whenever users work.
The Google Apps Reseller program includes resellers, consultants and independent software vendors that sell, service and customize Google Apps for Business for their customers. LANhome TECHnologies received training, support and deployment services from Google, as well as access to APIs for integrating Google Apps into their customers' business operations. LANhome TECHnologies is able to retain a close relationship with their customers in order to provide additional service and support. The businesses receiving Google Apps will benefit from the additional attention to their specific needs. For more information on LANhome TECHnologies program please visit http://www.lanhome-technologies.com and to learn more about the Google Apps Reseller program, go to http://www.google.com/intl/en/enterprise/apps/business/landing/partners/resellers.
LANhome TECHnologies pairs simple solution suites to bring you top-quality service offerings at a fraction of the cost of traditional vendor solutions, without any decrease in quality and security.
LANhome TECHnologies announces a new approach to core technology and service for small
business, All-In-One core services. These combined services include: telephone, email messaging, collaboration and office tools into one easy package.
All businesses require a phone, email and some sort of office software tools in order to function on a
daily basis, allowing them to effectively collaborate internally and communicate externally with their
customers. Cloud VoIP telephone services offer a level of sophistication and convenience not available be tradition means. Small business needs these offerings at reasonable rates without the unnecessary
hassle of setup and administration.
"We saw a niche in the cloud services market," according to LANhome TECHnologies CTO Kasey Kollross "Small business can now operate at enterprise levels using practical, efficient cloud technology solutions."
Implementing cloud solutions and technology, LANhome TECHnologies offers solutions and services at a fraction of the cost normally seen with these types of services. No longer are smaller organizations unserved by the productivity and collaboration tools of big business.
"Large savings will be seen by clients utilizing toll-free numbers and those on a regular software upgrade schedule," Kollross continued. "If your organization consumes vast amounts of toll-free minutes each month, our plans allow for unlimited toll-free minutes at fair prices." Further" he said, "those with a regular software upgrade schedule, common of many organizations in order to stay current and efficient, will see a significant savings compared to the typical software and hardware licensing models.
###
Google, Google Apps, Gmail, Google Talk, Google Calendar, Google Docs, Google Sites and Google Video are trademarks of Google Inc.
RingCentral is a registered trademark of RingCentral.