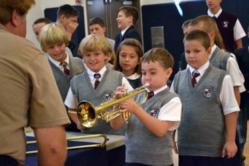 The students have made great progress so far... they have a lot of enthusiasm, and their attitude makes all the difference.
Lemont, Illinois (PRWEB) September 26, 2012
Students at Everest Academy will now be able to participate in a school band, one of many new offerings at the Lemont private school this fall. Everest continually seeks to build up the fine arts program, and the musical band program will be a nice complement to the drama, art, and music programs already offered.
The new band program is directed by Mr. Jim Rallis of Lemont, a graduate of DePaul University, who has been directing bands for over thirty years. Students who participate in the program will have small group practice sessions during the school day, and will begin weekly after-school practices with the full band in October. The program is designed for third through eighth grade students, and currently twenty-two students are participating.
There has been a great deal of interest in the band program among the Everest students. All students already receive music class twice weekly beginning in preschool, and many are involved in additional after-school activities such as the choir, individual piano, voice or violin lessons, or the violin club. The varied musical offerings at Everest ensure that many students already have knowledge of music and can read music, which gives them a foundation for developing musical talent as part of a band.
Mr. Rallis plans to have the band ready to perform at Everest's Christmas Pageant on December 14. "The students have made great progress so far, and the older students have already learned three songs" said Mr. Rallis. "They have a lot of enthusiasm, and their attitude makes all the difference." Mr. Rallis also attributes the support and involvement of parents as a great encouragement to students who take on the challenge of learning a new instrument. He believes the band will excel quickly and be ready for a Christmas performance.
The Fine Arts program at Everest, now including the band program, helps enrich students' aesthetic and spiritual sensitivity, and fosters an appreciation of the fine arts as part of a balanced education. This supports Everest's approach of Integral Formation® which seeks to offer students a well-rounded formation in all areas: academic, spiritual, apostolic, and character development. In addition to an emphasis on academic excellence, the school encourages all students to take part in the fine arts and other extracurricular programs as an essential part of the development of a well-rounded individual.
Everest Academy is an independent Roman Catholic school in Lemont educating children from pre-kindergarten through eighth grade. The teachers and staff are dedicated to forming the whole child by providing the highest level of academics, by building strong character, and by preparing generous leaders ready to serve the community. If you would like to learn more about Everest Academy's approach to education, please contact the Admissions Office at 630-243-1995 or visit the school website.