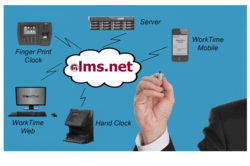 "The strength of HFTP has always been due to the dedication and support from its membership," said Frank Wolfe, CAE, CEO of HFTP. "The association couldn't have evolved into a world-class group like it has without their continued input."
(PRWEB) September 26, 2012
Gatekeeper Business Solutions, a leading provider of time & attendance software will showcase lms.net, a labor management system at the upcoming 2012 HFTP Annual Convention & Tradeshow.
HFTP, Austin, Texas, USA and Maastricht, The Netherlands, founded in 1952, is the global professional asso¬ciation for financial and technology personnel working in hotels, clubs and other hospitality-related busi¬nesses. HFTP provides first class educational opportunities, research and publications to more than 4,200 members globally including, the premiere hospitality technology conference HITEC — founded in 1972. HFTP also awards the only hospitality specific certifications for accounting and technology — the Certi¬fied Hospitality Accountant Executive (CHAE) and the Certified Hospitality Technology Professional (CHTP) designations.
HFTP's Annual Convention & Tradeshow is a one-stop shop for hospitality-related education and networking. The convention's education program offers industry-specific, concurrent session tracks — club, hotel, general, technology and PCI compliance. In addition, the tradeshow gathers over 40 companies who represent a wide variety of products and services for clubs, hotels, resorts, accounting firms and other hospitality-related businesses.
Gatekeeper Business Solutions offers a user friendly, web enabled application that creates measureable savings in labor costs, improves administrative productivity and increases revenue. Gatekeeper is also a leading provider of multiple data collection devices including labor saving biometric clocks, and a Work Time application for PC terminals allowing for ease of data input into a labor management system.
"Gatekeeper is again sponsoring the Club Track Educational Sessions at the HFTP 2012 Annual Convention & Tradeshow. It will be the perfect venue to showcase our lms.net version of the signature Gatekeeper labor management system which will be available through the "cloud", said Peter Dehlinger, President, Gatekeeper Business Solutions, Inc.
About Gatekeeper Business Solutions, Inc.
Gatekeeper Business Solutions, Inc., a labor management systems company, offers a proprietary suite of software tools (lms.net), including time and attendance, scheduling, and integrated payroll software, for midlevel private and public sector companies. The company has provided a broad range of technology based solutions to manage labor costs to clients nationally. For more information, please visit the company's web site at http://www.gatekeepersolutions.com.
###
Media Contact:
Christine Smith
Gatekeeper Business Solutions
888.428.3577
csmith(at)gatekeepersolutions(dot)com