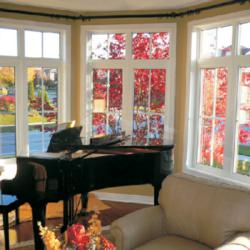 The most exciting point about the product launch is that consumers who purchase the product will experience money savings over time.
Oakville, Ontario (PRWEB) September 27, 2012
Fasada Home Remodelling Co. is thrilled to introduce Vinylbilt S.S.P glass into their product lineup. As customers are becoming more conscious of the energy efficiency of their homes, Fasada understands the importance of providing window and garage door offerings that are approved by the green consumer.
The S.S.P stands for security, sound, and performance. The Vinylbilt brand boasts that this product offers ten times the strength of a typical thermal glass pane, sound reduction of 25%, and a 50% increase in UV protection. The vinyl material also provides superior insulation, and helps a home remain warm in the winter, and cool in the summer.
This technology is perfectly suited for sliding patio doors, garage doors with glass panes, and all other windows in the home. As glass in patio doors and garage doors experience more handling and abuse than a typical window, choosing a strengthened pane is clearly the best choice for these locations.
The most exciting point about the product launch is that consumers who purchase the product will experience money savings over time. Vinylbilt windows help to achieve this in two ways. By insulating better than a typical glass window, Vinylbilt's S.S.P windows help to prevent heat escaping. At the same time, the windows allow heat from the sun to enter and help warm the home. Windows are to blame for up to 25% of heating costs for a home, so it's obvious that the savings could be significant.
Fasada urges homeowners to speak with a home remodelling expert if they are interested in improving the energy efficiency of their homes. There are several home remodelling and home décor products on the market, in addition to vinyl window offerings, that will help the homeowner to go green. For instance, particular lines of Hunter Douglas window coverings are designed to provide superior insulation, further reducing the loss of heating and cooling energy. Garage doors are yet another part of the home where significant heat can be lost, and investing in a new design can help to prevent this. There are showrooms in Oakville and Burlington where consumers can view these products and seek out further information.
Fasada Home Remodelling Co.is the premier company for windows and doors in Oakville and Halton Region. For the past 13 years, Fasada has been providing windows, doors, and garage door solutions to customers based out of their Oakville location, and more recently, an additional location in Burlington. To learn more about the home remodelling services available, call 1-888-278-5336.