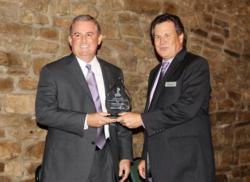 "Burnett's Staffing, Inc.'s record of performance is consistent with BBB's mission."
(PRWEB) September 27, 2012
Fort Worth, TX- Businesses committed to ethics and integrity do exist, and the winner of BBB's 2012 Integrity Award, Burnett's Staffing, Inc., is proof of that. "Giving the Integrity Award to a company with a history of building trust is the goal of this program," said John Riggins, the Better Business Bureau of Fort Worth and Tarrant County, Inc's. CEO. "Burnett's Staffing, Inc.'s record of performance is consistent with BBB's mission."
Burnett's Staffing has been placing people in professional office positions for over 46 years! The family business started in 1966 as a company that valued integrity and has been providing local companies with temporary, temp to hire, and direct hire staffing ever since. The staff has over 150 plus years of combined staffing experience and understands what it takes to make the right match when it comes to staffing!
Burnett's Staffing is owned by Joyce Burnett, Founder, Paul W. Burnett, CEO, and Paul D. Burnett, President. The mission statement is simple, yet powerful, "To make Professionalism, Service, Honesty and Integrity the standard of excellence in assisting clients with Office Administrative Support Personnel. We will provide the highest quality for the price, while affording the opportunity for staff members to contribute to their community by helping individuals pursue their chosen profession." They strive to live up to this promise made 46 years ago, which still holds true today!
Today management and staff consistently attend training programs designed to increase awareness of integrity and ethics as well as attend industry specific training. The company has also won numerous awards and is consistently recognized as a staffing leader in the Dallas-Fort Worth area.
If you would like more information on this subject or other staffing/employment related information, or to schedule an interview with Paul D. Burnett, President, please contact Karen Thompson, 817.640.5255 ext. 121 or kthompson(at)burnetts(dot)com. Burnett's Staffing, Inc. is privately owned and operated and has offices throughout the Dallas/Fort Worth Metroplex (Arlington, Grand Prairie, Dallas, Fort Worth, Las Colinas). http://www.burnetts.com