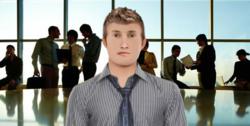 If your dream person is a professional, you can choose to have your person in an office while, if your preference is for someone who enjoys the outdoors, you can choose a park setting. This is one more way to better define the person you want to be with.
San Diego, CA (PRWEB) September 27, 2012
iDreamofU™ (IDOU) is a new online social dating site that allows members to visually create a near-lifelike image of the person they would like to meet (Dream image). The IDOU software then matches the Dream image, along with responses to the traditional demographic and relationship questions, to members on the site.
The newest IDOU feature lets the site user select a background image for the Dream image to better represent the user's lifestyle choice. "If I want to meet a professional, I can choose to have my Dream image in an office while, if my preference is for someone who enjoys the outdoors, I can choose an ocean, park, or mountain setting. This is one more way to better define the person you want to be with" says Karen Howard, President of KLEA, Inc., the owner of the IDOU brand.
The Dream image, with or without the new background feature, can now be shared through the multi-platform mobile web application. The mobile app will work on iOS (iPhone, iPod), Android, Windows, and Blackberry platforms.
The current functionality of the mobile app allows users to manage messages, matches, and created Dream images. IDOU is a social dating site meaning that Dream images can be shared on Facebook, Twitter and Pinterest. The mobile app is user-friendly in that the navigation is set up in a way that will be familiar to most users.
This is phase 1 of IDOU's mobile app with phase 2 to be introduced before year-end.
About IDOU
IDOU is a new entrant into the online social dating market; a market that is estimated to be in excess of $1 billion. The core differentiating factor between IDOU and all other dating sites is that an IDOU site member builds a visual version of the person he or she would like to meet by selecting an ethnicity, a preferred facial structure along with eye, nose, mouth and hair shapes. Since visual attributes are only part of a member's created profile, responses to the more standard demographic and relationship questions also play a significant role in the matching algorithm.
There is also a non-dating component to the site. Anyone visiting the site can create a person's image just to experience the site.
Launched in April, 2012, IDOU provides an innovative, game-like, and first-in class approach to online social dating for 18-50 year olds in the United States. All services on IDOU are currently free. IDOU will focus on the use of its website and planned applications to create an online and social dating market niche.