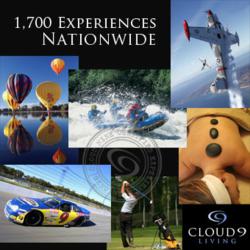 Cloud 9 Living's mission is to forever change the world of gift giving in the U.S. by enhancing people's lives through memorable experiences.
Boulder, Colorado (PRWEB) September 27, 2012
If you live in the U.K. or Australia you already know what an experience gift is. If you're an American you're about to find out.
That's because Cloud 9 Living, an experience gifts company based in Boulder, CO, is sending 100 bloggers from all corners of the internet on memorable experiences across the United States.
According to the Pew Research Center 58% of Americans have researched a product or service online. Real reviews by real people are more important than ever in helping people make purchasing decisions. This is especially true when a company like Cloud 9 Living comes along and asks consumers to rethink their shopping and gift-giving behavior.
Cloud 9 Living's mission is to forever change the world of gift giving in the U.S. by enhancing people's lives through memorable experiences.
Experience gifts are unique, single-day activities given to someone instead of a material item. For instance you might give your father a 150-MPH-ride in a stock car instead of a pair of new socks. Cue the awesome!
With more than 450 million active English language blogs on the internet today, it's become obvious that if you want to change something as fundamental as how Americans give gifts then a great place to start is in the blogosphere. That is precisely what Cloud 9 Living intends to do.
"We're confident that once these first 100 get to experience everything Cloud 9 Living has to offer they'll tell their readers and friends all about it," said John Augst, Cloud 9 Living's co-founder and President. "Then everybody will be giving memories instead of stuff. That would be awesome."
Founded in 2005, the company was one of the first in America to offer experience gifts and now has a catalog of more than 1,700 experiences in 43 regions across the United States. Built on a reputation of legendary experiences served up with legendary service, Cloud 9 is a chief evangelist of the idea of giving experiences as gifts.
Americans spend $10.7 trillion every year shopping. Only a tiny fraction of this money is spent buying experiences rather than products.
Yet research conducted at San Francisco State University and Cornell has indicated gift giving associated with a life experience creates more satisfaction and a greater sense of fulfillment than giving a material product.
The idea of giving experiences to another using a website was pioneered in the U.K. by the company Red Letter Days and by Red Balloon Days in Australia. The concept has since become a part of the gift giving culture in much of Europe and Australia.
Cloud 9 Living hopes to soon join those two companies as the catalyst for changing gift giving, this time in America. "We love what we do," says Augst. "And we think most Americans will love what we do as well—once they find out about us!"
If you or anyone you know would like to go on a free experience from Cloud 9 Living, please contact amccredie [at] cloud9living [dot] com. Please include "Blogger Review" in the subject line.
You must have an active blog with at least 100 posts, at least 3,000 Twitter followers, and a Google Page Rank of at least 3 or an SEOMoz Domain Authority of 35. Applications will be considered on a first come, first serve basis.