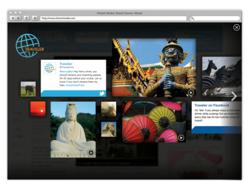 "Consumers' expectations of advertising have evolved, and Vibrant is evolving along with them," says Cella Irvine, CEO of Vibrant Media.
New York, NY (PRWEB) September 26, 2012
Vibrant Media, the global leader of in-content contextual technology, today announced its next generation suite of marketing solutions, including a significant update and redesign of in-text, its pioneering ad product. The rollout is the culmination of what has been a year-long expansion and evolution strategy led by Vibrant's CEO, Cella Irvine, to enhance the company's in-content advertising offerings.
Vibrant's new suite of brand discovery solutions includes "Mosaic," a rich full-screen format with tiles capable of hosting a wide range of brand content including videos, social media feeds, and images. This impactful, user-initiated brand experience is optimized for tablet, desktop and mobile, is launched from the new in-text and in-image Vibrant ad technologies.
The full Vibrant suite of brand discovery solutions – on desktop, mobile and tablet:

Vibrant In-text – The user-initiated, word-level contextual targeting solution that helps top advertisers own their brand words across platforms. Click here for a full demo. Redesigned and refreshed, the new in-text products include:
o Mosaic – the full-screen rich-media brand format
o Lightbox – the full-screen video format
o Standard – the refreshed 300x250 format
Vibrant Image – The premium placement that identifies static images within brand-safe content across the Web and embeds small overlays at the bottom of the image – leveraging the power of billions of editorial images for brand advertisers. Lightbox runs on Vibrant Image ad campaigns. Mosaic will soon be running on Vibrant Image.
Vibrant Display – Helps brands extend their reach with exact-match contextual targeting and dynamic content.
"Consumers' expectations of advertising have evolved, and Vibrant is evolving along with them," says Irvine. "Ad viewability is a major issue for brands. Consumers no longer have patience for advertising that fails to inform or delight, so we've doubled-down on our commitment to respect those changing behaviors, offering brands highly viewable and relevant opportunities. This refresh of our core product, in-text, shows our dedication to creating advertising and branded content campaigns with which people actually want to engage. All of these solutions are 100% viewable, as well as user-centric and relevant."
Under Irvine's leadership, Vibrant has been focused on serving consumers' needs in a rapidly evolving digital landscape. In January, Vibrant acquired Image Space Media, an in-image technology company that bolstered Vibrant Image and introduced an entirely new category of in-content inventory to help brands engage with consumers and help publishers monetize their content. In May, the company unveiled Lightbox, a user-initiated, full-screen video experience.
At the center of this evolution is the redesign of Vibrant's in-text product: to reflect changing consumer and brand expectations, while offering a more viewable and relevant experience. The new in-text features a new icon clearly showing consumers that the link is an ad, in addition to a "qualifier button" as a transitional step. The transition occurs after a viewer mouses over (on desktop) or taps the hooked keyword (on a tablet). Only after engaging with the button does the ad or content unit launch – delivering precision and qualification for brands and a high level of control for consumers.
About Vibrant Media
Vibrant Media (http://www.vibrantmedia.com) is the world's leading provider of in-content contextual technology that gets brand content and advertising discovered across platforms. With over 6,500 premium publishers, reaching more than 250 million unique users per month (comScore, 2012), Vibrant gives top brand marketers the opportunity to deliver highly targeted, user-initiated campaigns, within relevant text and images. Vibrant works with top brand advertisers such as Microsoft, Unilever, Chrysler and AT&T. The company was founded in 2000 and has offices in New York, San Francisco, Detroit, Chicago, Los Angeles, Boston, Atlanta, London, Paris, Hamburg, Munich and Dusseldorf. Vibrant's blog with insights on the digital marketing industry can be found at http://www.RelevanceMatters.com.
###