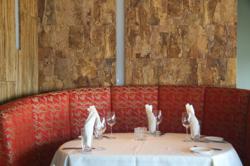 Designer Cork Tiles are durable, sound-dampening and temperature-insulating, making rooms more energy-efficient.
San Diego, CA (PRWEB) September 26, 2012
Imagine bringing the textures of the forest to interior designs with walls of living tree bark. Cali Bamboo®, a company of green building innovation, introduces GreenClaimed™, an original brand of renewably-sourced design products. The collection features sustainably harvested natural resources that have been reimagined, revived and reclaimed for one-of-a-kind building and décor elements. GreenClaimed™ products bring a touch of the natural world to designs without cutting down a single tree. Products are created to be multifunctional and easy to work with -- allowing boundless application possibilities for professional designers and DIY homeowners alike.
The first product line of the debut brand is Designer Cork Tile, a completely new application for a renewable resource. Designer Cork Tiles are easy-to-install wall panels approximately one by two feet in size and layered with the raw bark of the cork oak tree. With three eye-catching styles ranging from rustic tree bark textures to hand-cut geometric lines, each individual tile is distinct and reminiscent of stacked stone. Bring the beauty of the forest into homes, studios, lobbies, restaurants, salons or commercial spaces by transforming walls into natural art pieces.
Designer Cork Tiles are durable, sound-dampening and temperature-insulating, making rooms more energy-efficient. Easy installation allows interior decorators creative freedom to incorporate tiles in a variety of applications. Make a statement with full walls or ceilings of stunning raw cork bark. Create an artistic focal point above a mantelpiece, table or bed. Apply in home theatres and recording studios for one-of-a-kind acoustic insulation. Due to their earth tone colors and natural textures, Designer Cork Tiles work well as understated room accents as well as bold visual centerpieces.
Designer Cork Tiles are not only beautiful -- they are also renewable. Outer bark of the cork oak is merely "trimmed" and allowed to grow back, leaving the tree undamaged. A cork oak can live up to 200 years with harvesting occurring once every nine years, yielding about 20 harvests during a tree's life. The soft, spongy inner bark is most often used for wine corks; the leftovers are often recycled into flooring or other cork products. Designer Cork Tiles reclaim the exterior bark in its raw state and repurpose it for never-before-seen organic décor.
ABOUT CALI BAMBOO®, LLC
Based in San Diego, Cali Bamboo manufactures green building materials made primarily of bamboo -- one of the world's most durable, sustainable and renewable materials. Founded in 2004, the company has become a model of how individuals, businesses and communities can implement modern design while maintaining structural strength and environmental integrity. Cali Bamboo services residential and commercial building projects across North America with a wide range of products including bamboo floors, fencing, composite decking, plywood, poles, paneling and more. For more information visit CaliBamboo.com.