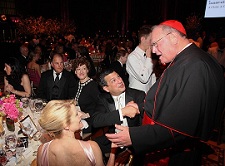 (PRWEB) September 27, 2012
Mitch Vazquez, an enthusiastic philanthropic donor offers aid to the Advance Cancer Research philanthropy. He is an active benefactor helping number of regional causes in their act to make the world a better place for some underprivileged people.
The Advance Cancer research cause is an effort of the Multiple Myeloma Research Foundation. This cause pursues innovative means to accelerate the development of next-generation multiple myeloma treatments to extend the lives of patients and lead to a cure. There was very little research on the disease. The same drugs had been used for several decades, with no new innovations on the horizon. As a result, patients had a life expectancy of only 3 years. The cause works with researchers and clinicians to give new hope to the patients and dramatically change the treatment landscape.
Mitchell Vazquez grew up in the Seattle area of Washington State and attended public school where he excelled academically and athletically. Without any financial support from his family he completed his education through scholarships and part time work. He provided a significant help to the Advance Cancer Research charity.
To know more about the other philanthropies he supports log on to http://www.mitchellvazquez.com.