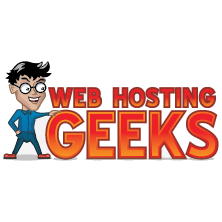 We believe in honest, fair and relevant web hosting
Newport Beach, California (PRWEB) September 27, 2012
Web Hosting Geeks (webhostinggeeks.com) has announced today the release of a new option on their website entitled "Hoster Registration and Control Panel."
The new addition arrives with several benefits for hosting companies. The panel allows such businesses to list their proprietary services, their regular prices (as well as special deals) and custom URLs to their landing pages. It also allows users to manage customer reviews directly, including the addition of public responses. The new panel will also provide review updates and notifications, controlled by the web hosting companies.
"Here [at Web Hosting Geeks] we believe in honest, fair and relevant web hosting. Our main focus with this new Hosting Company Control Panel is allowing hosting company representatives to accurately present themselves, respond to public concerns, and otherwise establish an honest front for their services. We feel this is what the web hosting industry, and community, needs most in the modern age," said Art Minaev, MD of Web Hosting Geeks.
Since 2004, WebHostingGeeks.com has been one of the foremost providers of data, information and analysis within the web hosting industry. Their content is comprised of a series of yearly excellence awards, as well as thousands upon thousands of real, user-submitted reviews. The latest addition to the site's offerings, the Web Hosing Company Control Panel, further supports the research potential afforded to the common user by Web Hosting Geeks.
In addition to allowing web hosting industry professionals to voice their responses to public criticism and praise, the new site functionality also encourages honesty within the field. To apply for the program, companies must provide proof or information regarding hidden fees, existing tech support systems, genuine product presentation, honest customer relations, secure billing, tight public policy agreements, and air-proof terms of service for all products. All of these measures ensure that customer reviews existing currently on the site are not tampered with and are also responded to in such a way that benefits the common user.
About Web Hosting Geeks: Founded in 2004, Web Hosting Geeks is a top and leading analyst of the web hosting industry. The site's editors work to balance their industry expertise alongside a wealth of real, user-submitted data to better provide information about the Net's hosting options. They host a yearly awards ceremony designed to reward excellence within the industry. In addition, they also offer a blog covering technology, social media, hosting systems, user experience, and a wealth of other hosting-related topics.
Contact:
WebHostingGeeks.com
1024 Bayside Drive, Suite #302
Newport Beach, CA 92660
+1(866)TOP-HOST
http://webhostinggeeks.com