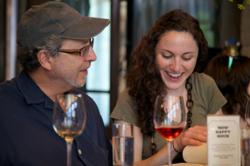 "I did the Beer & Chocolate tasting and it was UNBELIEVABLE! It was my first Urban Oyster event and it did not let me down. Who knew that beer and choc would go so well together?"
-Katie from Brooklyn
New York, NY (PRWEB) September 26, 2012
Looking for something different for this year's company holiday event, birthday celebration, or a bachelorette party? In that case New York based tour and events company Urban Oyster may have just the thing. They have just launched a whole slate of new private group packages targeted at groups, company events, and celebrations. Building on their popular food and beverage themed walking tours of NYC, they have created private group experiences such as tours, tastings, harbor sails, and renting your own private beverage expert. These events throw out the book on typical parties and events and instead create interactive, educational, and fun experiences that will make for a truly memorable day.
The event concepts include private versions of their popular NYC foodie themed walking tours, private beer tastings and beer dinners, specialty tastings such as cheese and chocolate with wine and cocktails, crafty concepts like designing your own glass to take on a winery tour, harbor sails, and hiring out a "Sommelier for a Day" to accompany a group on its night on the town. Each event features delicious food and drink from local shops, producers, and restaurants. They are also able to host the event anywhere the customer desires, including the home or office or they can take the event out on the town and host it at one of Urban Oyster's partner spaces around the city. Urban Oyster takes care of all the planning of each event so customers don't have to lift a finger and they are happy to customize the events to fit specific needs.
So are the events fun? Just ask Katie Hepler of Manhattan, who attended an Urban Oyster Beer and Chocolate Pairing event. "it was unbelievable! It was my first Urban Oyster event and it did not let me down. Who knew that beer and chocolate would go so well together?"
There is an event option for every budget and size group from 10 to 200+. Past customers include American Express, Ziff Brothers, Visa, as well as numerous birthday, bachelor and bachelorette parties so they've got plenty of experience. So toss out those tired old party trays and drop the over priced caterer. There are far more entertaining and interesting options for your next celebration.
About Urban Oyster:
Urban Oyster is a New York-based tour and events company, founded in 2009 by David Naczycz. The company has created multi-sensory, theme-based tours and events in New York City which aim to reveal the stories behind the people and places that make the city's neighborhoods unique, vibrant, and sustainable. Each tour and event celebrates local people, businesses and institutions and serves to connect people directly to these outstanding and vital resources. By doing so, Urban Oyster hopes to contribute to vibrant and sustainable local economies. Urban Oyster offers a variety of regularly-scheduled public tours and events as well as offering private tours and events that are enjoyed by native New Yorkers and visitors alike. http://www.urbanoyster.com