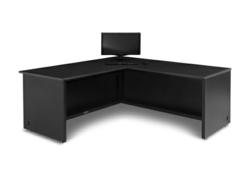 Los Angeles, CA (PRWEB) September 26, 2012
VersaTables, the leader in American-made classroom, office, and medical furniture, announced the addition of an innovative L-Shaped Desk to its existing line of high-quality office furniture. The fixed-height L-Shaped Desk comes in eight attractive color combinations from sleek black to warm wood traditional woodgrains and is designed to provide enough writing and organizational space for users that frequently shift from writing or reading to computer use. The L-Shaped desk comes with a built-in modesty panel and cable channel to keep cord and cable tangles to a minimum. Grommet holes allow for pole-mounted monitors and cable management. The steel frame supports a 1" thick, high density wood surface which is coated with a glossy, scratch-proof, stain-resistant finish.
"I anticipate the L-Shaped Desk to sell really well," says Alex Del Toro, Marketing Director at VersaTables. "The optional keyboard drawer makes this desk ergonomic, and like all of our VersaTables desks, users may customize the L-Shaped Desk by adding CPU holders, upgraded keyboard arms, and mobile filing pedestals for additional storage. Because they add these items themselves, when they assemble it, they can install them anywhere on the desk they want. This makes the desk perfect for right- or left-handed users."
The company is known for its high-quality, ultra-customizable furniture products since its inception. "Our customers have been able to basically design their own desks and tables for years using our basic frames and then adding the accessories they want. We offer printer and speaker platforms, shelves, storage baskets, keyboard drawers and trays, CPU holders, wheel kits, filing drawers, and even computers and power accessories," says Alex Del Toro, "The L-Shaped Desk is one of our largest desks. It's completely customizable with all the features the customer wants and none it doesn't. Plus, it looks great in a large space."
VersaTables is a leading furniture company that manufactures all furniture products in the United States, using only American-based raw-material vendors. VersaTables works with organizations such as the Sustainable Furnishings Council (SFC), U.S. Green Building Council (USGBC), and Business and Institutional Furniture Manufacturer's Association (BIFMA) to consistently maintain the highest standards of sustainability. In addition, all of the furniture and accessories VersaTables sells ships for free in the continental U.S., and comes with a Lifetime Guarantee.
For more information about VersaTables and its customizable furniture, or to browse through the company's new line of accessories, visit http://www.versatables.com.