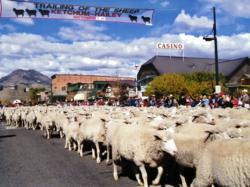 Hailey, IDAHO (PRWEB) September 26, 2012
For an authentic, inexpensive family vacation this year, check out the 16th annual Trailing of the Sheep Festival October 11th – 14th, 2012 in the Wood River Valley of Idaho.
Fall is a beautiful time in the mountains and this unique Festival has something for everyone including an authentic Folklife Fair in Hailey, Idaho, a multitude of culinary events featuring American lamb, cheese and local foods, storytelling, a Fiber Festival, Sheepdog Trials, children's activities and workshops, a Big Sheep Parade and so much more.
"Many special family activities are planned during the Trailing of the Sheep Festival," says John Peavey, President of the nonprofit that organizes the Festival.
"One of the highlights is the Sheep Folklife Fair," says Executive Director, Mary Austin Crofts. "You can see sheep shearing and sheepdogs, many cultural dancers and musicians, eat great food and children have their own Activity Area to participate in programs, learn all about fiber and create easy, beautiful projects.
FESTIVAL HONORS RICH & COLORFUL HISTORY
Organizers promise an extraordinary 16th annual Trailing of the Sheep Festival this year. MSN Travel honors the Festival as One of the Top Ten Fall Festivals in the World. The event is the recipient of the Governor's Award for Cultural Heritage and named One of the Top 100 Festivals in North America.
The Festival was featured on CBS Sunday Morning with an 8-minute segment, and stories have appeared in The Smithsonian, Sunset Magazine, Food & Wine, Good Housekeeping and dozens of other national press.
Every year the popular Trailing of the Sheep Festival celebrates the century and a half long tradition of moving sheep from mountain summer pastures south through the Wood River Valley to traditional winter grazing and lambing areas. This annual migration is Idaho living history and a weekend long festival that highlights the people, arts, cultures, and traditions of sheep ranching in Idaho and the west. This is not a reenactment, but a real slice of the American west.
BIG SHEEP PARADE
Another highlight for kids and families is the Big Sheep Parade on Sunday, October 14th at 12:00 noon in Ketchum, Idaho. 1,500 – 2,000 sheep plan their trip from the mountain summer pastures to coincide with the parade and trail down Main Street in Ketchum with multi-cultural dancers and musicians, sheep wagons, music and entertainment. The highway and Main Street are closed to traffic to allow the "Wall of Wool" to move south.
LAMBTASTIC CULINARY EVENTS THIS YEAR
Chris Kastner of CK's Real Food will teach Cooking with Lamb on Friday afternoon in Hailey, Idaho. Chris was voted the Valley's Best Chef this year and is known for his amazing culinary skills and use of local natural foods. Chef Chris will be teaching about roast rack of lamb plus perfectly matched side dishes.
The fourth annual For the Love of Lamb Foodie Fest will take place in association with local restaurants and chefs on Friday, October 11th starting at 5:00 pm. Lamb tastings will be featured at several restaurants and other venues with famous local chefs and restaurants presenting their best lamb recipes.
Restaurants and chefs included in this event include: Boca, Chef Tim Filgate, Cornerstone Bar & Grill, Cristina's, Moose Girls and the Roosevelt.
A Lamb Feast will take place on Saturday during the Sheep Folklife Fair. Six chefs will be preparing the best in lamb and Basque food for lunch. All to benefit the Festival. Chefs include Chris Kastner of CK's Real Food (barbecued ribs and apple buttermilk and blue cheese coleslaw), Chef Time Filgate, di Vine, Fresshies, Power House and Rasberry's will also be serving lunch.
Sunday, before and after the Parade, Festival Board members and ranchers are hosting an Authentic Lamb Barbecue as a fundraiser for the Festival. 11:00 am – 2:00 pm. Music by Sillwater.
Dozens of the finest local restaurants feature American Lamb specials all weekend long.
16TH ANNUAL CELEBRATION IN 2012
2012 marks the 16th year of the annual Trailing of the Sheep Festival. The four-day event includes nonstop activities in multiple venues. The weekend includes history, folk and traditional arts, a Folklife Fair and Fiber Festival with classes and workshops, music, dance, storytelling and two days of Championship Sheepdog Trials. There is dancing, singing, music and food honoring the tradition of welcoming fathers, brothers, sons and family home from a long summer of grazing in the mountains. This Festival honors the colorful history, heritage and cultures of Idaho and the west.
WOMEN WRITING & LIVING THE WEST
In 2012, the Trailing of the Sheep Festival is honoring the commitment of multi-generational families and their love of the land for the contributions they have made to the development of Idaho and the west. In honor of these hard-working families, we are premiering a film from footage collected at last year's highly successful program, Women Writing and Living the West. The film is The Voices of Western Women, the courage to tell your story. It is an evening with Women Writing and Living the West with many guests to share powerful stories.
THE POWER OF NATURAL FIBERS AROUND THE WORLD
Linda Cortright, editor and publisher of Wild Fibers magazine, is coming to the 16th annual Trailing of the Sheep Festival. The Community Library in Ketchum will host Linda for an evening of exploring the art, animals, people, culture and animals of natural fibers from around the world on Saturday, October 13, 2012 at the Library.
Linda has traveled over 1,000,000 miles since launching the magazine to write stories, take photographs and to explore the animals, art, people and cultures of the natural fiber industry. She has the natural gift of storytelling and has thousands of gripping, heartfelt stories to share as well as powerful images from around the world. Her passion is to preserve natural fibers and the people, animals and cultures that make up this threatened industry. Where people and animals are forced to leave the land, the fiber is lost. Linda raises cashmere goats, but she hopes her stories will help the world see the importance of sheep, llamas, camels, silkworms and the hundreds of other animals that create the natural fiber industry.
http://www.wildfibersmagazine.com
2012 FIBER FEST
New fiber classes and workshops include knitting, spinning, felting and start on Thursday, October 11th. Classes will be held all weekend. There will be a fleece competition and exhibits on Saturday during the Folklife Fair in Hailey.
NEW EXHIBIT
A new exhibit on Arbroglyphs will be coming to the Ketchum Sun Valley Ski and Heritage Museum for the Festival. Immigrant Shadows: Tracing the Herders' Legacy, a collaborative installation by Earle D Swope and Amy Nack, celebrates tree carvings (arborglyphs) left by immigrant sheepherders in mountain aspens throughout the American West. http://www.arborglyph.com
Arborglyphs created by Basque immigrants have been documented from the early 1900's and continue today by immigrants from Chile, Peru, Brazil and Mexico. The cross-cultural carvings have continued for generations as a form of mark making and self-documentation by immigrants in a strange and often unwelcoming land.
CHAMPIONSHIP SHEEPDOG TRIALS
The 2012 National Point Qualifying Sheepdog Trials take place on Saturday, October 13 and Sunday, October 14. 50 of the most talented border collies in the west compete for prizes. Everyone is invited to sponsor a sheepdog for $50 to support the Festival and have a favorite dog to cheer on. It's great fun!
A FUN-FILLED WEEKEND FOR THE ENTIRE FAMILIY
The Festival weekend includes:

Trailing of the Sheep Parade – 2,000 sheep parade down Main Street Ketchum, Idaho
Trailing of the sheepdog Championship trials (Sat and Sun)
Storytelling and presentations
Gourmet cooking workshops
Children's activities, classes and workshops
Felting and fiber workshops
New photography workshop
Polish Tatra highlanders
Peruvian musicians and dancers
Oinkari Basque dancers
Boise Highlanders, bagpipers and drummers
Folklife Fair
Sheep shearing demonstrations
Sheep wagon displays
Spinning and weaving demonstrations
Wool and craft shops
For a complete schedule and for photographs to download see the website, http://www.trailingofthesheep.org. For high resolution photos, contact mary(at)trailingofthesheep(dot)org. Brochure available upon request.
Contact: Mary Austin Crofts, Executive Director, Trailing of the Sheep Festival, 208-720-0585 or mary(at)trailingofthesheep(dot)org.