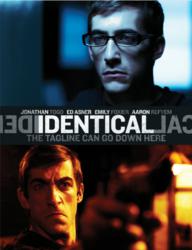 "Jonathan Togo is making a successful move from television to film. ITN is proud to have 'Identical' as part of our 2012 line-up."
Beverly Hills, CA (PRWEB) September 26, 2012
Jonathan Togo's (CSI: Miami) new award-winning film "Identical" continues to gain momentum. ITN Distribution, Inc. today announced the film's iTunes release is slated for October 2012. In December 2012, "Identical" will be available in 15 million homes on VOD.
"Identical" has already been sold to Africa, Spain, North America, Italy, Benelux, Korea and Ex-Yugoslavia. "Identical" was released in 32,000 Redboxes, Amazon, Amazon Premium, Netflix, Blockbuster and other US video retailers.
Completed in 2011 and shot on location in New York, "Identical," a thriller written and directed by Daniel Bollag, tells the story of identical twins who need each other to exist, but they deeply resent the others existence. They both fall in love with the same woman, and a love triangle forms which leads to murder. The film stars notable actors Jonathan Togo (CSI: Miami), Ed Asner and Emily Foxler (The Lost Tribe, Ghosts of Girlfriends Past).
ITN's President Stuart Alson commented, "Jonathan Togo is making a successful move from television to film. ITN is proud to have 'Identical' as part of our 2012 line-up."
For further information on "Identical" and ITN's complete list of titles, please visit http://www.itndistribution.com
About ITN Distribution Inc.
Founded by entertainment impresario Stuart Alson in 2001, ITN Distribution has become a leading independent film distribution company, known to buyers worldwide. Over the past 12 years, it has established itself as a major player in the world of distribution and specializes in negotiating the best deal possible for their clients. ITN's objective is to become a top source for attracting, acquiring,understanding and selling product. Their international presence at Cannes, MIPCOM, MIPTV, Hong Kong FILMART, EFM-Berlin, NATPE Miami, NATPE Budapest and AFM has shaped a realistic approach to selling, programming and closing deals with buyers worldwide.