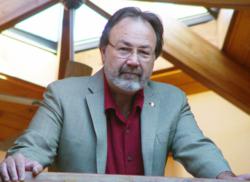 "Ric Licata's leadership in professional education, his commitment to a sustainable environment and his service to others represents a legacy we wish to honor," said NSAD President Steve Altman
San Diego, Calif (PRWEB) September 26, 2012
NewSchool of Architecture and Design (NSAD) is honoring alumnus Ric Licata, FAIA, an award-winning architect who passed away this year, by offering a scholarship in his name. The Ric Licata Legacy Scholarship provides $7,000 for enrollment in the school's three-quarter Executive Master's Program. The first scholarship is being offered in fall 2012.
The NSAD Executive Master's Program gives licensed mid-career architects who have worked at least five years in the field the opportunity to earn a Master of Architecture degree in nine months through courses that blend theory, design, and practice. Classes meet on alternate weekends at the San Diego campus. The deadline to apply for the competitive Ric Licata Legacy Scholarship is Oct. 10, 2012
The scholarship is meant to honor Ric Licata, who earned a Master of Architecture from NSAD in 2002 through the Executive Master's Program and who was a principal and co-founder of Licata Hansen Associates Architecture in Reno, Nev. "Ric Licata's leadership in professional education, his commitment to a sustainable environment and his service to others represents a legacy we wish to honor," said NSAD President Steve Altman. "This scholarship is meant to acknowledge his many contributions to the field of architecture and to provide greater opportunities for others to pursue their professional education."
Among the recognitions received by Licata are the American Institute of Architects (AIA) Nevada Livable Community Award and the AIA Nevada Silver Medal for a lifetime of distinguished service to his community and his profession. He was an active member of the AIA, having served on the national board and as president of the Nevada chapter, and was named a Fellow in the AIA in January, 2011. In addition to his professional accomplishments, he taught architecture at Truckee Meadows Community College. He was named NSAD "Alumnus of the Year" in 2005.
"Ric's greatest passion was designing a sustainable built environment for future generations to enjoy, and motivating students to do the same," said Matt Hansen, partner at Licata Hansen Associates Architecture. "I applaud NSAD for creating this honor for Ric since his life passion is recognized through this scholarship."
The NSAD Executive Master's Program is recognized by the National Architectural Accrediting Board (NAAB) and the National Council of Architectural Registration Boards (NCARB). To learn more about the Ric Licata Legacy Scholarship, contact Enrollment Specialist Matt Acklin at 619-684-8822 or macklin(at)newschoolarch(dot)edu.
About NewSchool of Architecture and Design
NewSchool of Architecture and Design (NSAD), founded in 1980, is located in San Diego, California. NSAD is accredited by the Accrediting Council for Independent Colleges and Schools (ACICS). ACICS is listed as a nationally recognized accrediting agency by the U.S. Department of Education and the Council for Higher Education Accreditation. NSAD's Bachelor of Architecture, Master of Architecture and Executive Master of Architecture programs are accredited by the National Architectural Accrediting Board (NAAB). NSAD also offers a pre-professional Bachelor of Arts in Architecture, a Bachelor of Science in Digital Media Arts, a Bachelor of Science in Construction Management, a Master of Construction Management and a Master of Science in Architecture. NSAD was ranked among the top 10 undergraduate architecture schools in the western United States, according to the DesignIntelligence report "America's Best Architecture & Design Schools 2012." For more information, visit http://www.NewSchoolArch.edu.