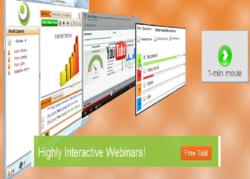 ...Webinato bridges the gap by combining quality and simplicity in an interactive, secure and brandable environment.
Houston, Texas (PRWEB) September 26, 2012
omNovia Technologies, a global leader in high quality, rich-media and interactive webinar and webcasting solutions announced today the official launch of Webinato (http://www.webinato.com), a simpler high-quality webinar platform that allows people to create online marketing and training presentations with slide shows, movies and polls within minutes.
"Over the years, webinar platforms have added more complex features, making it difficult for those who have less demanding requirements but still want high-quality solutions. Webinato bridges the gap by combining quality and simplicity in an interactive, secure and brandable environment." said Shawn Shadfar, founder and CEO of omNovia Technologies.
By offering Webinato on its own separate website, omNovia will bring more focus on higher-end technology and superior service for its omNovia Web Conference Pro customers. While Webinato's affordable platform is tailored for SMBs' simple online presentations, the omNovia Web Conference Pro provides a wider range of advanced, interactive and rich-media features such as HD live video, cobrowser and recast that meet the most demanding webinar requirements.
The Webinato webinar platform, based on omNovia's award-winning technology and global infrastructure, is available via popular web browsers with no software installs or as a mobile app. It offers the following features: slide show module, YouTube movie player, polling, integrated audio, white board, chat, event registration, reporting and more.
The Webinato solution is also offered to resellers worldwide as a white labeled webinar platform facilitated by its support for multiple languages and character sets such as Chinese, Russian, Hebrew and Arabic.
For a free trial of the Webinato platform, visit http://www.webinato.com/trial
About omNovia:
omNovia Technologies is a leading global provider of online meetings, high-quality webinars, engaging online trainings and live event webcasting solutions for small business meetings and large-scale enterprise conferences. omNovia's high-quality web conferencing platform offers the best online meeting experience with a unique capacity of 5,000 simultaneous participants in an interactive web-based environment. omNovia's live event webcasting solution, StageToWeb, provides HD live-video streaming, integrated voice and interactive tools. omNovia's unique Recast feature enables replays of recorded events in a fully interactive environment. For more information please visit http://www.omnovia.com.