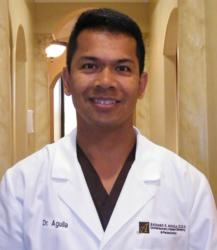 Jacksonville, FL (PRWEB) September 26, 2012
Dr. Richard E. Aguila of Contemporary Implant Dentistry & Periodontics trained and is now certified to use the Laser Assisted New Attachment Procedure for the treatment of gum disease. LANAP is a revolutionary method of treatment, and Dr. Aguila has seen excellent results in patients who suffer from periodontal disease.
Using the Periolase MVP-7 laser Dr. Aguila has joined only one percent of dental professionals who are trained on the LANAP procedure. The procedure begins with the doctor measuring the periodontal pocket depth with a probe to determine how detached from the root the gum has become. Next, he uses the laser's pulsed light to dissolve the tissue that has become diseased and to kill the gum disease causing bacteria. Ultrasonic scalers are used to scrape off the calculus deposits hidden in the pocket areas. The laser is used again to stimulate the bone, root and soft tissue so that the remaining healthy tissue will attach to the tooth. The bone will begin regeneration. The clot created by the tissue promotes fast healing.
Since the laser is selective, only the gum tissue that has been damaged by periodontal disease is dissolved. The healthy tissue is left intact, which means that there is less likelihood of gum recession after the procedure. Because a laser is used instead of a scalpel, the entire procedure is only minimally invasive and healing time is improved.
Dr. Aguila wants people to know about the new LANAP procedure because there are millions of Americans that suffer from gum disease, and many of them do not seek treatment. The new LANAP procedure can help to minimize pain and can result in a relatively short recovery period. This makes it an excellent option for treatment. Those who want to learn more about this procedure can go to http://www.laseranddentalimplants.com.
Richard E. Aguila, D.D.S is a periodontist offering patients personalized dental care for Jacksonville, FL since 2010. Dr. Aguila received his Bachelors of Arts degree in Chemistry and Doctor of Dental Surgery from West Virginia University. He completed a hospital-based General Practice Residency at the Naval Medical Center- San Diego. He practiced general dentistry in the Navy for six years before pursuing his specialty training in periodontics and dental implant surgery at the Medical University of South Carolina. During this time he obtained his Certificate in Periodontics and Masters in Health Sciences with honors. Dr. Aguila has been practicing periodontics and dental implant surgery exclusively since 2001. He is part of one percent of dental professionals providing the most recent FDA cleared laser procedure for gum disease and periodontal treatment. To learn more about Richard E. Aguila, D.D.S and his dental services visit his website at http://www.laseranddentalimplants.com and call (904) 638-7980.