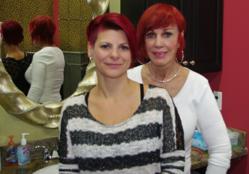 I really want my lips to look sexier, to finally have some oomph!"
Scottsdale, AZ (PRWEB) September 26, 2012
Her lips won't be sealed. But they sure will be showcased. Scottsdale professional hairstylist Jennifer DeSimone, owner of "The Cutting Room Floor," knows she won't wind up on the cutting room floor miss out on 15 minutes of fame. She is the lucky woman getting a luscious, but natural-looking, permanent makeup lips enhanced by industry leading artist, Sally Hayes. The cosmetic tattooing procedure from Hayes' Permanent Makeup Scottsdale location will be aired in its entirety on YouTube starting at 2:00 p.m. EST on Thursday, September 27, 2012.
"Jennifer should be a great candidate for this," says Hayes. "She really wants to have her lips done, and she has experience with the process since I did her permanent eyeliner nearly two years ago. But every procedure is different, that's why even after doing this tens of thousands of times over my career it's still exciting, yet downright nerve-wracking for me to do it live on camera."
DeSimone shares similar emotions. She admits to being excited about the opportunity but also more than a tad nervous. "My friends all keep asking me if it's going to hurt, or they're telling me how much it's going to hurt. But I know and trust Sally Hayes, and I've been wanting to do something to enhance my lips more every day since she did my eyeliner," says the Scottsdale hairstylist of 20 years. "The Arizona heat is a real hassle for a woman. My lipstick is always melting or getting messed up from sweating, as well as every time I eat or drink something. I am so ready for a solution. Besides, I really want my lips to look sexier, to finally have some oomph!"
For a number of reasons, both women expect whatever happens in the procedure to be viewed by a large audience. Permanent makeup is increasingly popular today among women for its time and effort saving benefits as well as appearance enhancement. Also, Hayes has an increasingly popular presence on YouTube. A video released on her channel 2 weeks ago showing an inside look at a live eyebrow tattoo procedure has attracted nearly 4,000 views already.
"I don't need to be famous," jokes DeSimeone. "Getting movie star lips every day which don't constantly smear or smudge is enough for me. If Sally makes life easier for me like she did with my permanent eyeliner, I'll be good to go."
About Sally Hayes Permanent Makeup
Sally Hayes is widely considered a leading expert in permanent makeup. She is often recommended and referred by the top cosmetic plastic across the country. Since 1986, she has been helping women enjoy natural-looking enhancements of their appearance which can give them added confidence and freedom from their daily grind with makeup. With office locations in Phoenix-Scottsdale, AZ, New York, NY, Las Vegas, NV, and Los Angeles, CA, she specializes in undetectable eyebrow tattoos, permanent eyeliner, permanent lip makeup, and cosmetic camouflage for areolas and post-surgery facelift scars.
For more information, visit http://www.permanentmakeup.com.
Contact Information:
Sally Hayes Permanent Makeup
10201 N. Scottsdale Road
# 20 (inside Salon Studios)
Scottsdale, AZ 85253
(480) 951-0539